Nutra Botanics Amino Collagen + Hyaluronic Acid 60's | Halal-Certified Capsules
Nutra Botanics®

Product Code: 0071

Availability:

In Stock

Promotes Youthful Hydrated Skin

Restore Diminishing Collagen Levels

Maintain Skin Moisture and Elasticity

Quick Results

Proprietary Formula

Contains Natural Ingredients

No Know Potentially Harmful Side Effects

Made in USA
Available Options
---
You Save:
S$40.00 (50.06%)
---
SHELF LIFE ASSURANCE | EXPIRY DATE: Apr 2023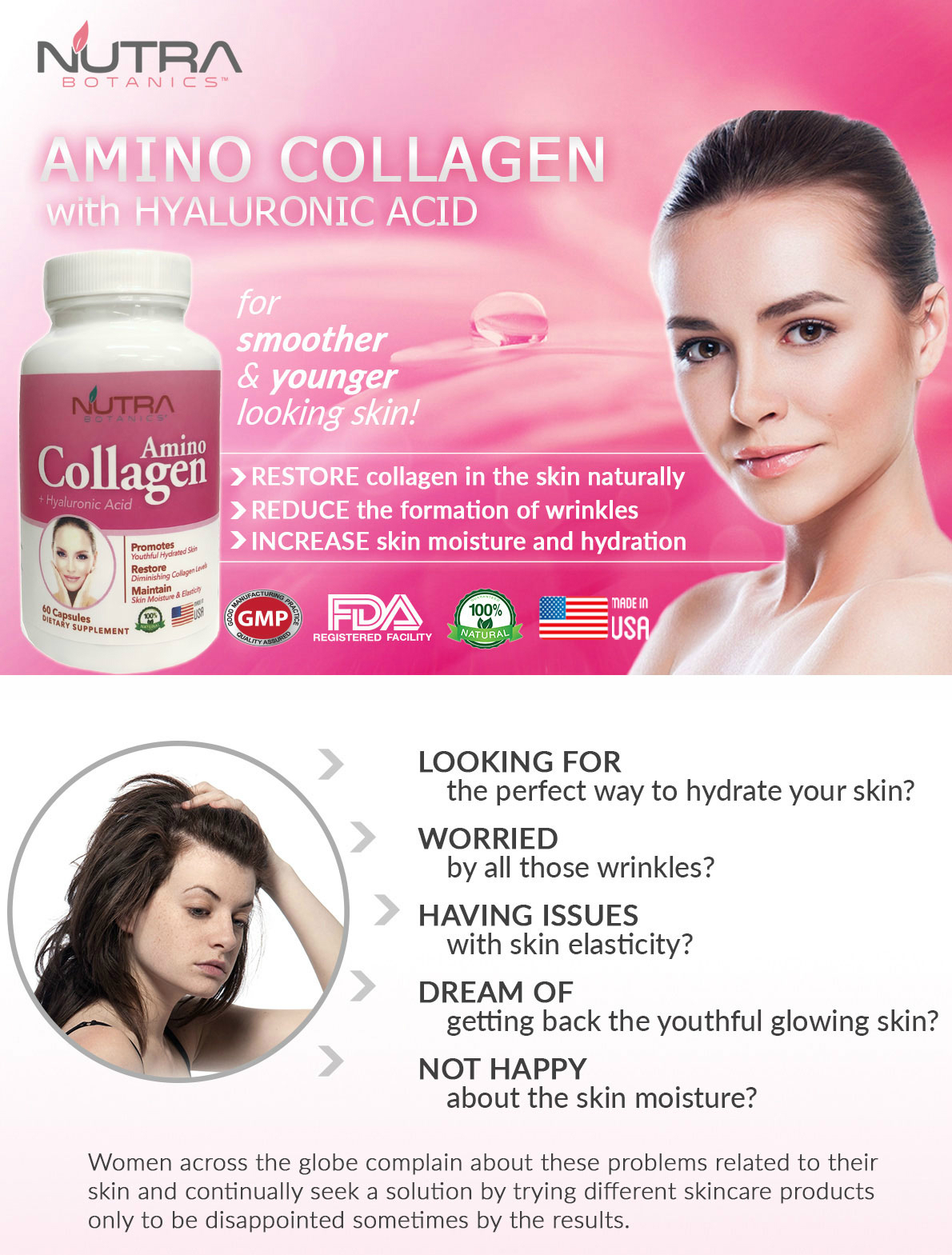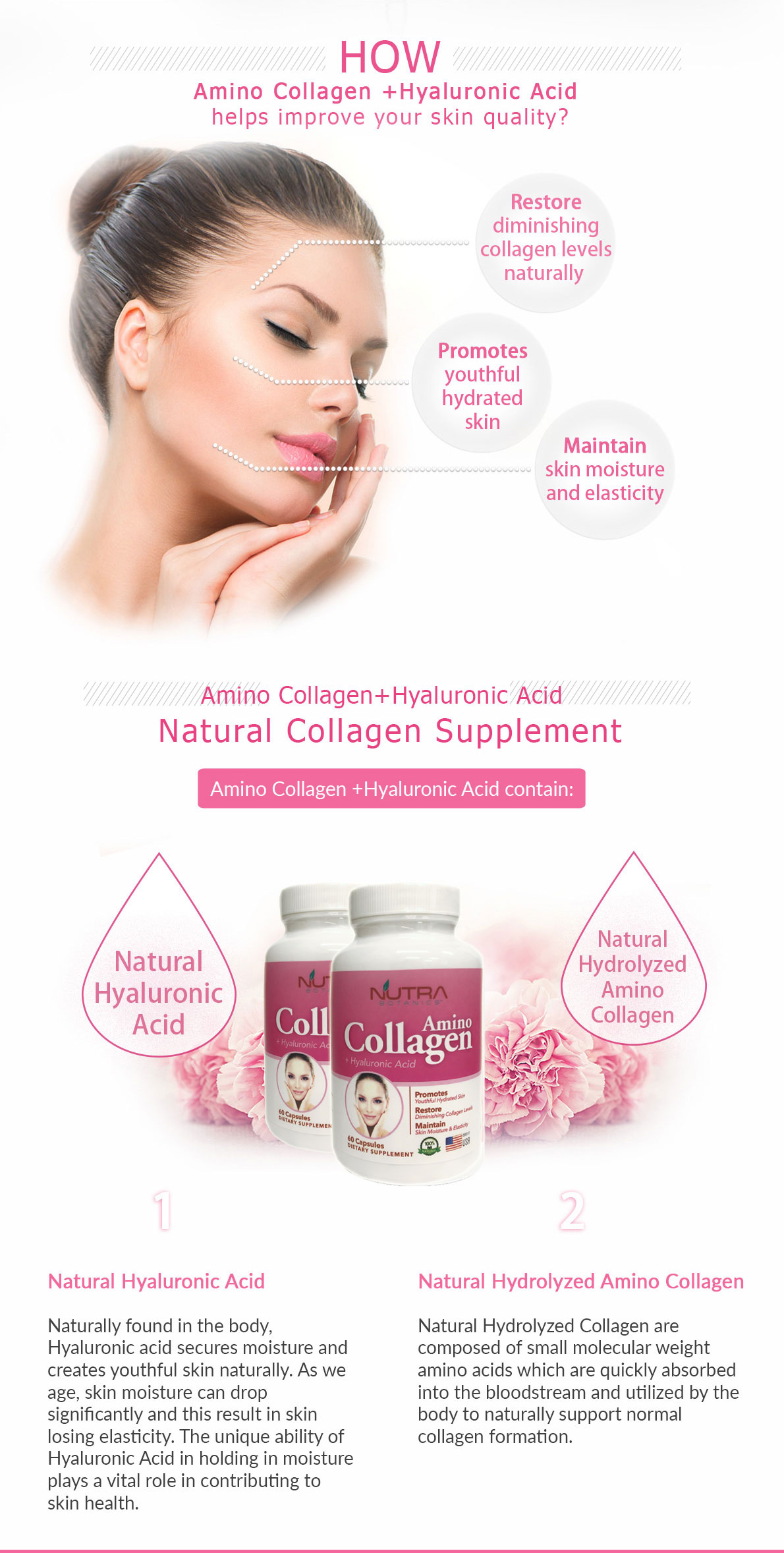 Product Description
Do you know that we start ageing at the age of 25?
From the age of 25, the collagen content in our skin start reducing by about 1% every year. Over the long term, this loss of collagen will lead to saggy skin, wrinkles and loss of skin elasticity.
Nutra Botanics Amino Collagen + Hyaluronic Acid is a collagen supplement which come in convenient easy to swallow capsules to promote youthful hydrated skin. The natural hydrolyzed amino collagen in each capsule of Nutra Botanics Amino Collagen + Hyaluronic Acid are composed of small molecular weight amino collagen which are rapidly absorbed into the body and utilized by the body to naturally support normal collagen formation. The hyaluronic acid which has a unique ability to retain moisture improves skin elasticity and creates youthful skin naturally. Nutra Botanics Amino Collagen + Hyaluronic Acid is the perfect collagen supplement to reverse the signs of ageing and for that perfectly healthy, beautiful skin.
Collagen Supplement Increases Skin Luminosity (Radiance)
Genuine skin radiance is created when light reflects off skin collagen as it passes through the reddish skin capillaries. Nutra Botanics Amino Collagen + Hyaluronic Acid increases collagen formulation and pushes the collagen closer to the skin surface, giving your skin that healthy looking radiance.
Tighter, Firmer Skin with Collagen
Tight, firm skin depends on having the optimal amount of collagen in your skin and also optimal skin hydration. Nutra Botanics Amino Collagen + Hyaluronic Acid gives you all these, increasing skin elasticity and reduce fine lines and wrinkles.
Clinical Update - Collagen Supports Joint Health By Reducing and Preventing Joint Pain
Collagen is the most abundant protein in the human body, comprising about 30% of the body's total protein content.
All connective tissue in our body including cartilage is comprised of some collagen. Research has shown that supplementation with amino collagen can reduce and preventing joint pain, helping us to stay mobile, strong, flexible and beautiful. When taken with Calcium, collagen has also been found to reduce overall bone loss in osteopenic, postmenopausal women.
VitaminMall Tip
A convenient alternative to amino collagen supplements in powder form, take Nutra Botanics Amino Collagen + Hyaluronic Acid to restore diminishing collagen levels and for youthful hydrated skin. If you are experiencing joint pain, collagen supplement is also a useful add on to glucosamine and turmeric curcumin supplements.




WHY BUY FROM US
Shop with us today and Experience the VitaminMall difference! When you buy any products from VitaminMall, you can be rest assured of the following benefits:
Ask A Pharmacist Helpline

Our pharmacist will attend to your questions about health supplements and the safety of herbal remedies.

Best Range, Best Pricing Available Online

Fast Shipping

Our goal is to deliver your purchase in the quickest and most economical way possible. In order to support this goal, we only use reputable Courier Service Company like QExpress to ship your orders. For orders above $70, shipping is free!

Secured Online Ordering

Our website is secured by Thawte SSL

Unparalleled Customer Service

We take pride in our knowledgeable and professional customer service and we will do everything possible to help you.

Natural Ingredients

Most of our specialty supplements are formulated with top quality natural ingredients.

GMP Certified

All our health supplements are manufactured in State-of-the-Art Facility

If you have any questions about how maca supplements can help you improve your vitality, health and wellbeing, speak to one of our qualified pharmacists today. Here at Singapore's Vitamin Mall, we are dedicated to providing professional-grade help to all those who need it.