EC Sports Whey Protein Isolate with Digestive Enzymes – 690g – Vanilla Ice Cream – 24g of Protein, 6.5g BCAA – 25 Serving – Increase Muscle & Strength – High Bioavailability
EC Sports

Product Code: 0999

Availability:

In Stock
100% Whey Protein Isolates

With Digestive Enzymes For Higher Bioavailability

No Gas & Bloating

24g Protein, 6.5g BCAA, 3g Leucine

Increase Muscle & Strength

Improve Recovery Time
---
You Save:
S$79.10 (61.32%)
---
SHELF LIFE ASSURANCE | EXPIRY DATE: Aug 2024


When you set out to build lean muscle, nothing comes close to EC Sports pure Whey Isolate Protein Powder. Each scoop delivers 24g of fast-acting and fast-absorbing protein from whey isolate and BCAAs, making it the perfect post-workout protein solution. Formulates with our premium enzyme blend which breaks down (hydrolyzes) whey protein into smaller particles for enhanced digestion and absorption. Fuel your recovery and growth with EC Sports clean and tested Whey Protein.
TOP REASONS TO SUPPLEMENT WITH WHEY ISOLATE
· ENZYME BLEND
We have created an enzyme blend that will help breakdown the protein making it easier for your body to digest the protein and alleviate bloating and gas. The large proteins are broken down into amino acid chains and then into amino acids that can readily be used for muscle repair and development.
· FERMENTED BCAAS
Finally, we have 6.5 grams of BCAAS. Branched Chain Amino Acids stimulate muscle protein synthesis, which allows you to build muscle faster and more effectively while being less sore in the process.
DIRECTIONS: Mix 1 scoop with 8-12 oz of water, milk, or smoothie (use more a less liquid depending on your taste preference) for 30 seconds
Protein 24 g (Whey Protein Isolate 25.6 g, Added Fermented 2:1:1 BCAA 1.0 g), Magnesium 19 mg, Vitamin B-6 5 mg, Vitamin D 25 mcg, Vitamin K 10 mcg, Calcium 104 mg, Potassium 148 mg, Phosphorus 69 mg, Enzyme Blend: 50 mg (Protease, Papain,Lactase, and Bromelain)
BCAA: Over 6.5 grams of BCAAs
EAA (Essential Amino Acids): 12 grams of EAAs
Made in USA, each and every batch of EC Sports Whey Isolate Protein with Digestive Enzymes is proudly manufactured in a GMP-certified manufacturing facility in the USA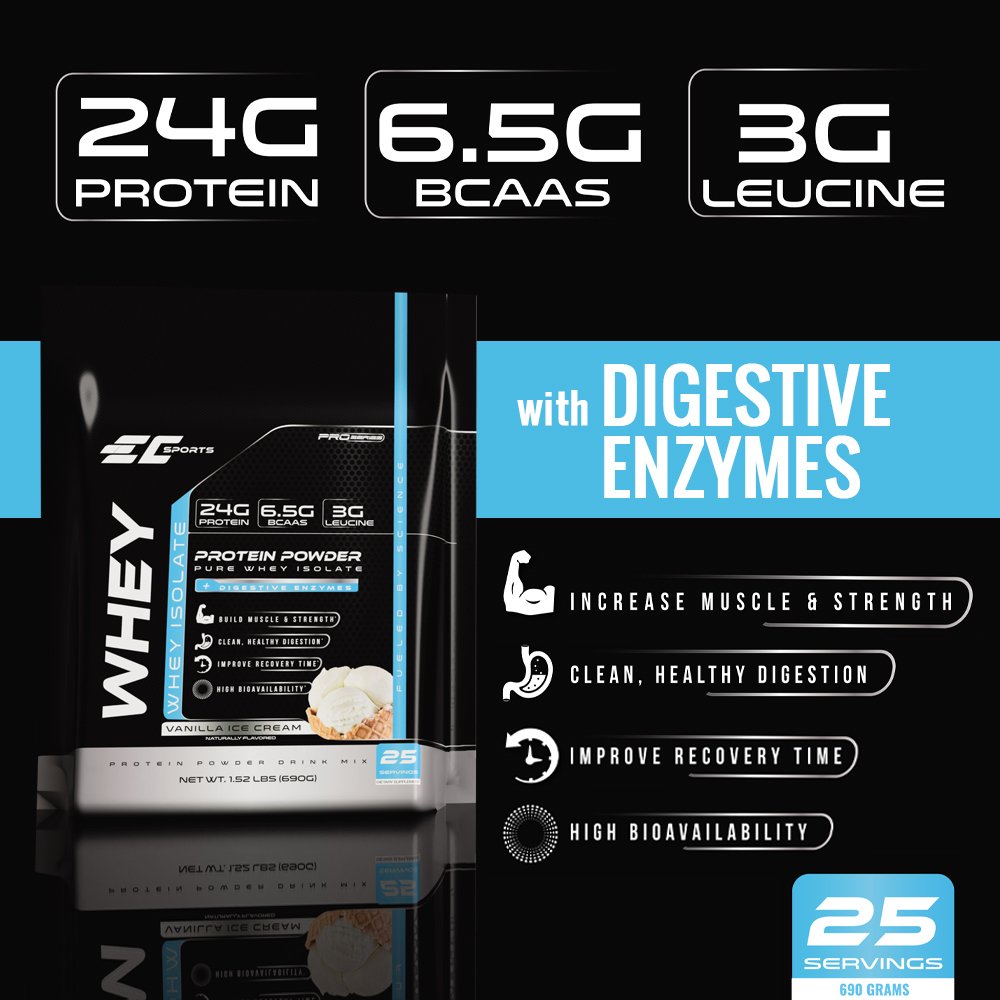 WHY BUY FROM US
Shop with us today and Experience the VitaminMall difference! When you buy any products from VitaminMall, you can be rest assured of the following benefits:
Ask A Pharmacist Helpline

Our pharmacist will attend to your questions about health supplements and the safety of herbal remedies.

Best Range, Best Pricing Available Online

Fast Shipping

Our goal is to deliver your purchase in the quickest and most economical way possible. In order to support this goal, we only use reputable Courier Service Company like QExpress to ship your orders. For orders above $70, shipping is free!

Secured Online Ordering

Our website is secured by Thawte SSL

Unparalleled Customer Service

We take pride in our knowledgeable and professional customer service and we will do everything possible to help you.

Natural Ingredients

Most of our specialty supplements are formulated with top quality natural ingredients.

GMP Certified

All our health supplements are manufactured in State-of-the-Art Facility

If you have any questions about how maca supplements can help you improve your vitality, health and wellbeing, speak to one of our qualified pharmacists today. Here at Singapore's Vitamin Mall, we are dedicated to providing professional-grade help to all those who need it.