EC Sports Nootropic Brain Boost - Caramel Mocha Latte - Brain Health Supplement - Cognitive Function Support - Promotes Memory & Focus, Energy & Mood Booster - 30 Servings
EC Sports

Product Code: 608786003897

Availability:

In Stock
Brain & Cognitive Function Support
Enhances Mental Clarity & Recall
Promotes Focus & Mental Sharpness
Increases Energy & Mood Levels
All-Natural Ingredients with 18 Powerful Nootropics
Made in USA at a US FDA GMP Certified State-of-the-Art Facility
---
---
SHELF-LIFE ASSURANCE: Min. 18 Months from Date of Purchase
EC Sports Nootropic Brain Boost in Caramel Mocha Latte is a brain health supplement formulated with clinically proven ingredients such as Bacopa and Lions Mane for maximum mental clarity and focus support with natural caffeine to get through the daily activities and events.
Every serving of the powdered-form drinkable brain supplement contains key ingredients such as 300mg Bacopa Monnieri Extract, 100mg of Lions Mane, 10mg of Vitamins B5 and B6, 250mcg of B12 and 25mcg of D3 for optimal cognitive function performance.
Every batch of EC Sports Nootropic Brain Boost in Caramel Mocha Latte is proudly manufactured in a GMP-certified manufacturing facility based in the USA, guaranteeing high quality standards and strict manufacturing processes.
Suggested Use: For adults, mix 1 scoop with 8 to 16oz of water or preferred beverages of choice in a shaker bottle. Stir well before consuming. Do not exceed the recommended dosage. Individuals with known medical conditions should consult with a healthcare professional before using this or any dietary supplement. Keep out of reach of children. Store in a cool, dry place.
Why choose EC Sports Nootropic Brain Boost in Caramel Mocha Latte?
· Brain & Cognitive Function Support
· Enhances Mental Clarity & Recall
· Promotes Focus & Mental Sharpness
· Increases Energy & Mood Levels
· All-Natural Ingredients with 18 Powerful Nootropics
· Made in USA at a US FDA GMP Certified State-of-the-Art Facility
EC Sports Nootropic Brain Boost in Caramel Mocha Latte contains 30 servings of drinkable brain health supplement with required nutrients to support the daily activities and maximise performance when taken regularly.
One of the key ingredients, the Lion's Mane, is a clinically proven ingredient to optimise the brain function and productivity for maximum capabilities and to support healthy brain development to prevent possible age-related cognitive decline diseases.
Additionally, Bacopa is another significant proven ingredients to aid energy and positive mood uplift as the same time, caters assistance to healthy stress response and recovery, especially in today's fast paced society.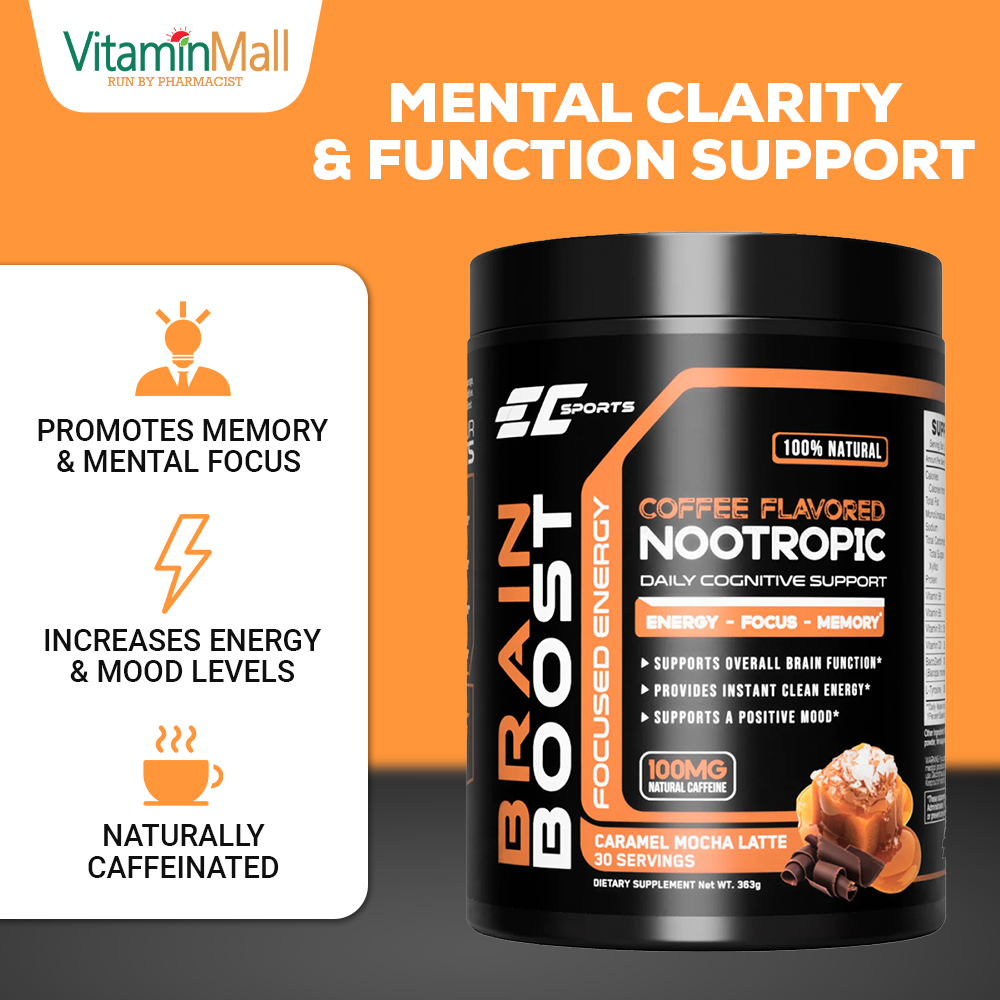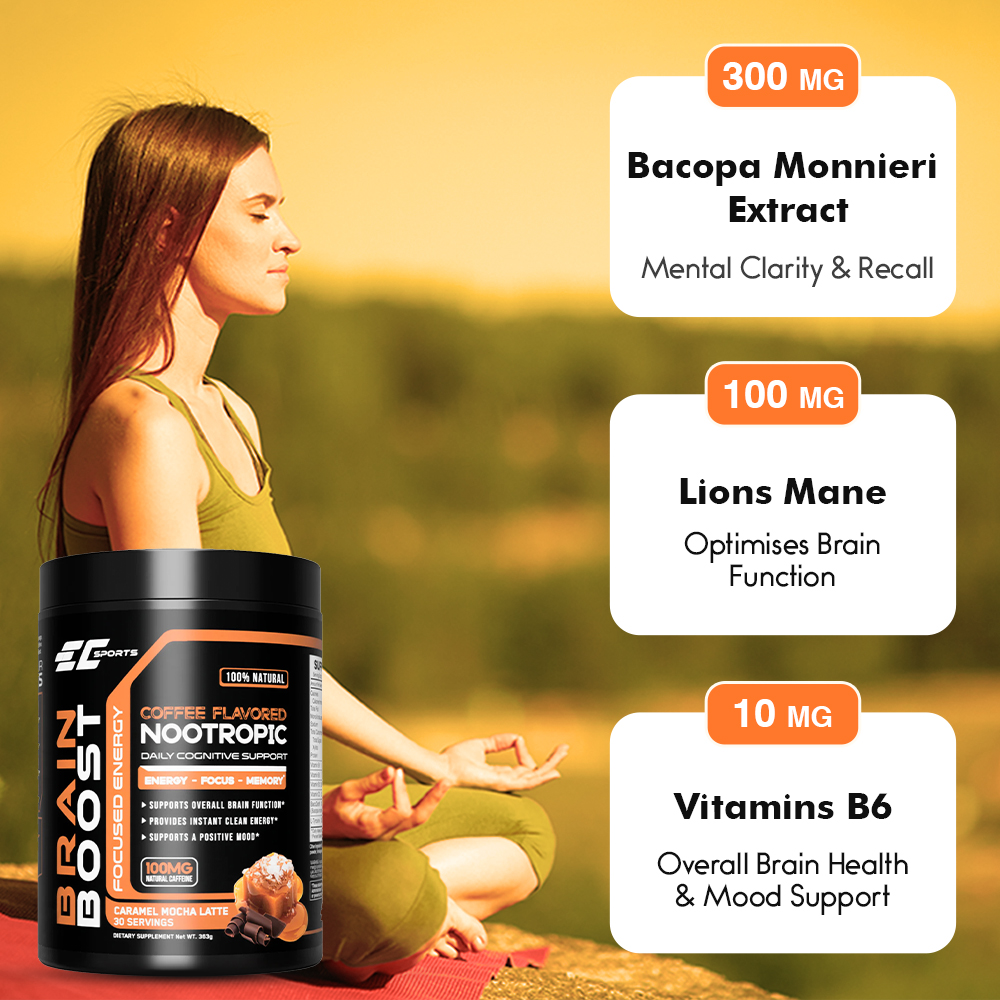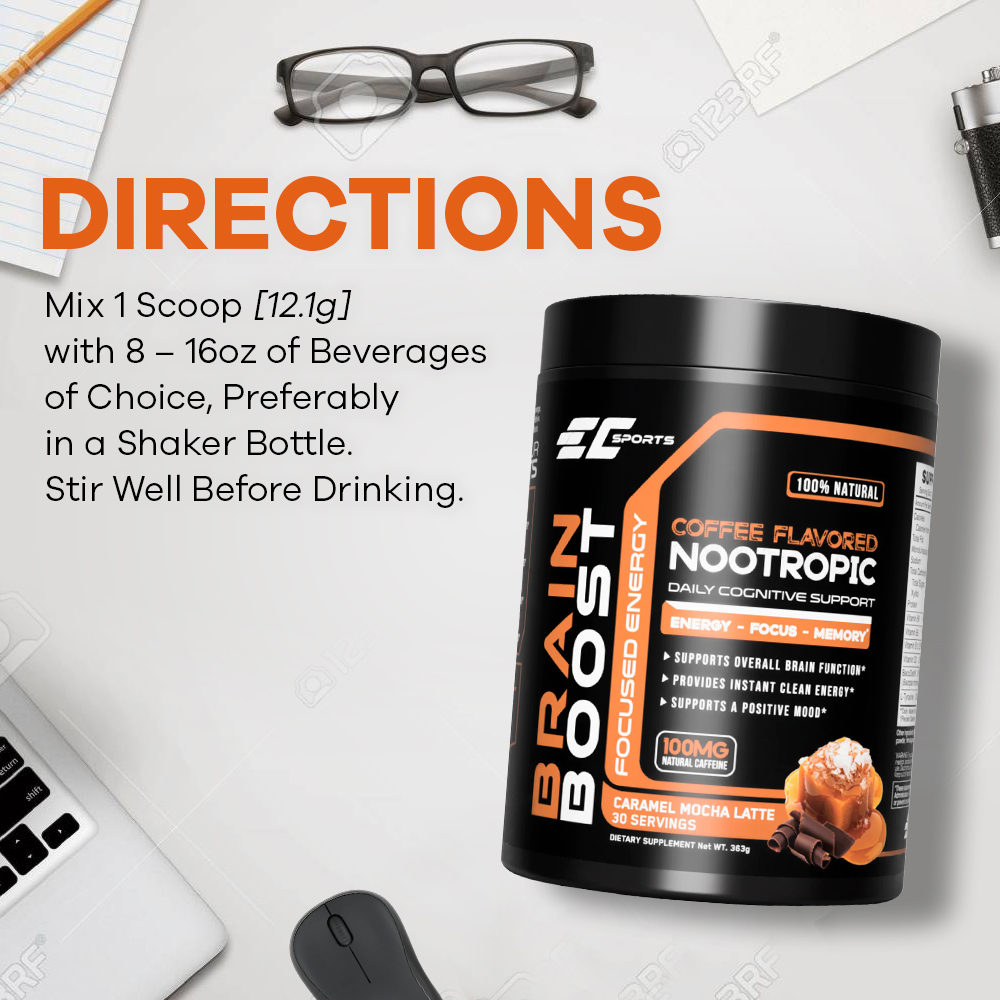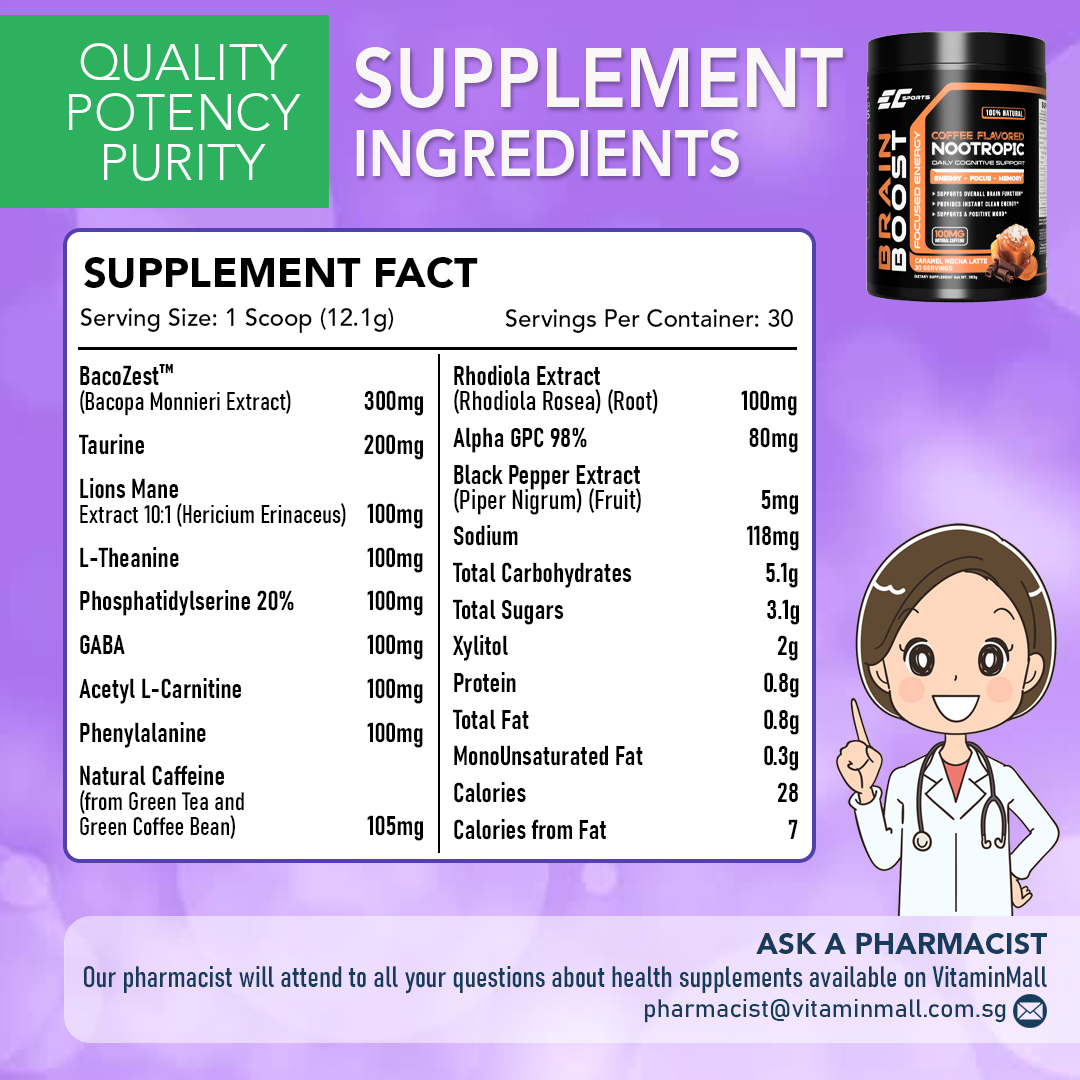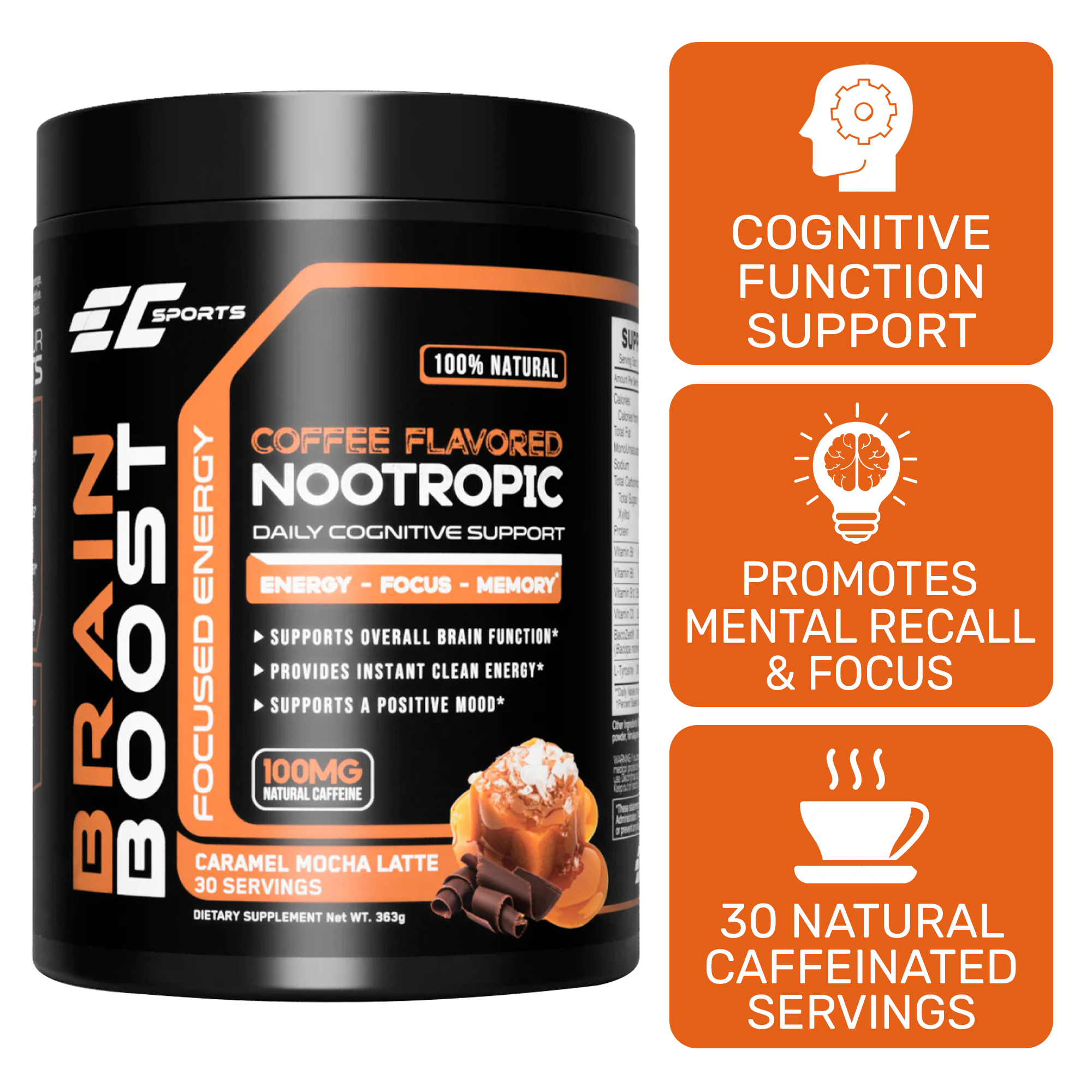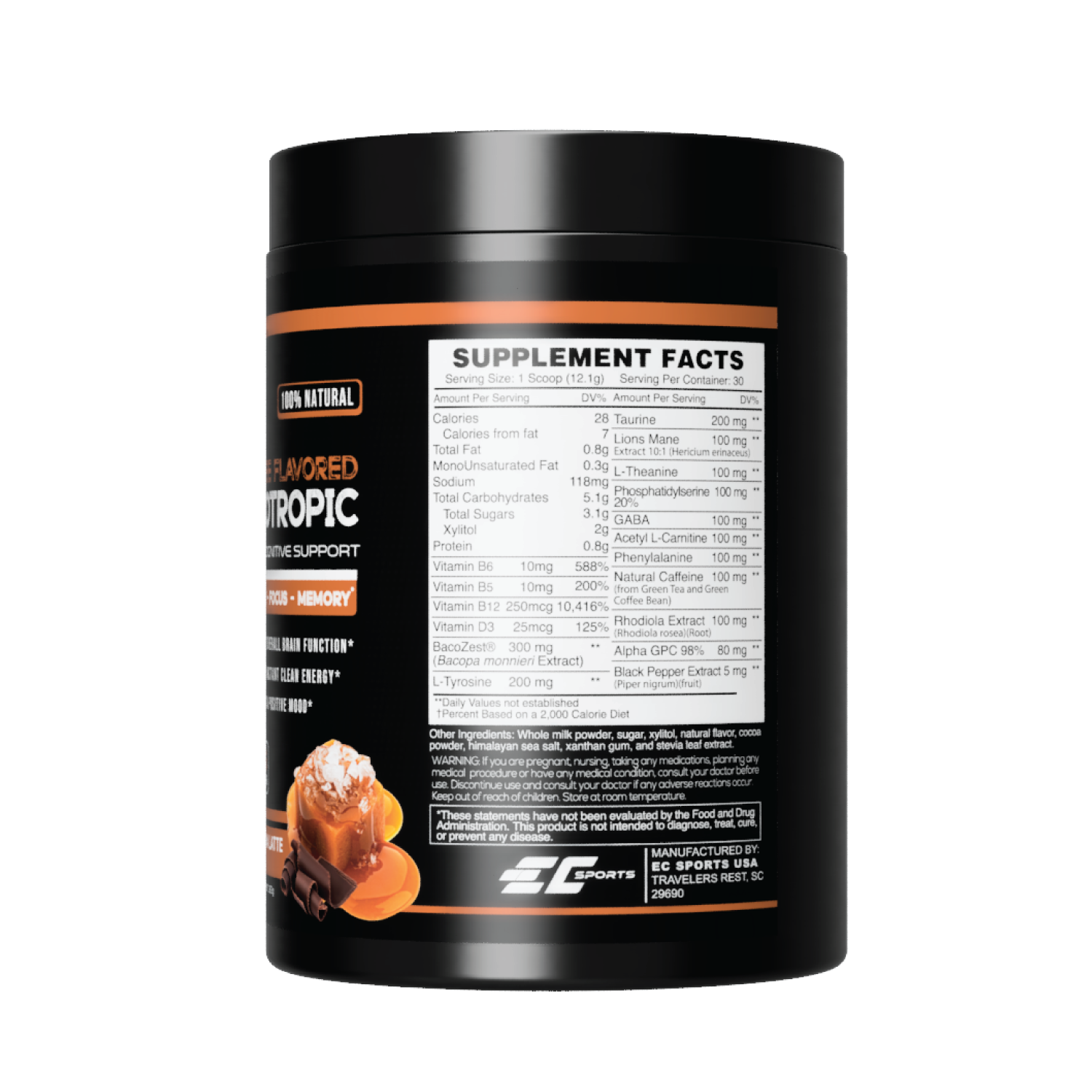 WHY BUY FROM US
Shop with us today and Experience the VitaminMall difference! When you buy any products from VitaminMall, you can be rest assured of the following benefits:
Ask A Pharmacist Helpline

Our pharmacist will attend to your questions about health supplements and the safety of herbal remedies.

Best Range, Best Pricing Available Online

Fast Shipping

Our goal is to deliver your purchase in the quickest and most economical way possible. In order to support this goal, we only use reputable Courier Service Company like QExpress to ship your orders. For orders above $70, shipping is free!

Secured Online Ordering

Our website is secured by Thawte SSL

Unparalleled Customer Service

We take pride in our knowledgeable and professional customer service and we will do everything possible to help you.

Natural Ingredients

Most of our specialty supplements are formulated with top quality natural ingredients.

GMP Certified

All our health supplements are manufactured in State-of-the-Art Facility

If you have any questions about how maca supplements can help you improve your vitality, health and wellbeing, speak to one of our qualified pharmacists today. Here at Singapore's Vitamin Mall, we are dedicated to providing professional-grade help to all those who need it.