Nutri Botanics Calcium Magnesium Zinc with Vitamin D3 Supplement – 60 Vegetarian Tablets – Promote Stronger Bones & Teeth, Promote Muscle, Brain & Memory Health
Nutri Botanics

Product Code: 608786495500

Availability:

In Stock
Provides all the essential nutrients to support strong bones and teeth
Enhances immunity
Promote healthy muscle function
Support memory and cognitive function
Protect cells against free radicals
Manufactured in USA at a US FDA GMP certified State-of-the-Art facility
Available Options
---
You Save:
S$-19.90 (0.00%)
---
SHELF-LIFE ASSURANCE: Min. 18 Months from Date of Purchase

Nutri Botanics Calcium Magnesium Zinc with Vitamin D3 is clinically formulated to help you meet your daily vitamins and minerals requirement. It is a non-constipating formula that comes in easy to swallow tablets. This health supplement consists of calcium, magnesium, zinc, and vitamin D3, which are all essential to support strong bones and teeth. Additionally, these vitamins and minerals also helps to promote a healthy muscle and brain function and can also be obtained externally through consuming dairy foods.
As we age, our bones deteriorate, making them weak and fragile. Hence, Nutri Botanics Calcium Magnesium Zinc with Vitamin D3 is the best supplement for you to obtain all the essential nutrients to maintain strong bones and teeth, in order to prevent the risks of bone diseases such as osteoporosis.
Certain group of individuals such as people who are lactose intolerant and vegetarians, are at risk of calcium deficiency, and are required to consume calcium supplements since it is difficult to obtain these essential nutrients from non-dairy or vegetarian sources. Support your health today with Nutri Botanics Calcium Magnesium Zinc with Vitamin D3.
Each serving of Nutri Botanics Calcium Magnesium Zinc with Vitamin D3 contains 380mg of Calcium, 240mg magnesium, 150IU vitamin D3, and 2mg of zinc.
Directions: Take one (1) to three (3) tablets daily, preferably with a meal or as directed by your healthcare professional.
Made in USA, each and every batch of Nutri Botanics Calcium Magnesium Zinc with Vitamin D3 is proudly manufactured in a GMP-certified, FDA-registered manufacturing facility in the United States.
Why choose Nutri Botanics Calcium Magnesium Zinc with Vitamin D3?
Provides all the essential nutrients to support strong bones and teeth
Enhances immunity
Promote healthy muscle function
Support memory and cognitive function
Protect calls against free radicals
Manufactured in USA at a US FDA GMP certified State-of-the-Art facility
Calcium, Magnesium, Zinc and Vitamin D are essential nutrients that work together to support a healthy skeletal system, promoting and maintaining strong bones and teeth. Calcium is stored mainly in the bones and is essential for the regeneration of bone tissues.
Magnesium plays an important role of converting vitamin D into its active form to aid calcium absorption and is also associated with supporting memory and cognitive function. Moreover, magnesium supports muscles and nerve function, and maintain healthy blood pressure levels.
Zinc minimizes the risk of bones breaking down by supporting bone building cells and inhibiting cells that causes the breakdown of bones. Zinc is an essential mineral that supports various functions in our body, such as boosting the immune system, and promoting wound healing, and blood clotting.
Vitamin D3, also known as cholecalciferol, is essential for bone mineralization and calcium absorption, allowing our bodies to actively absorb calcium.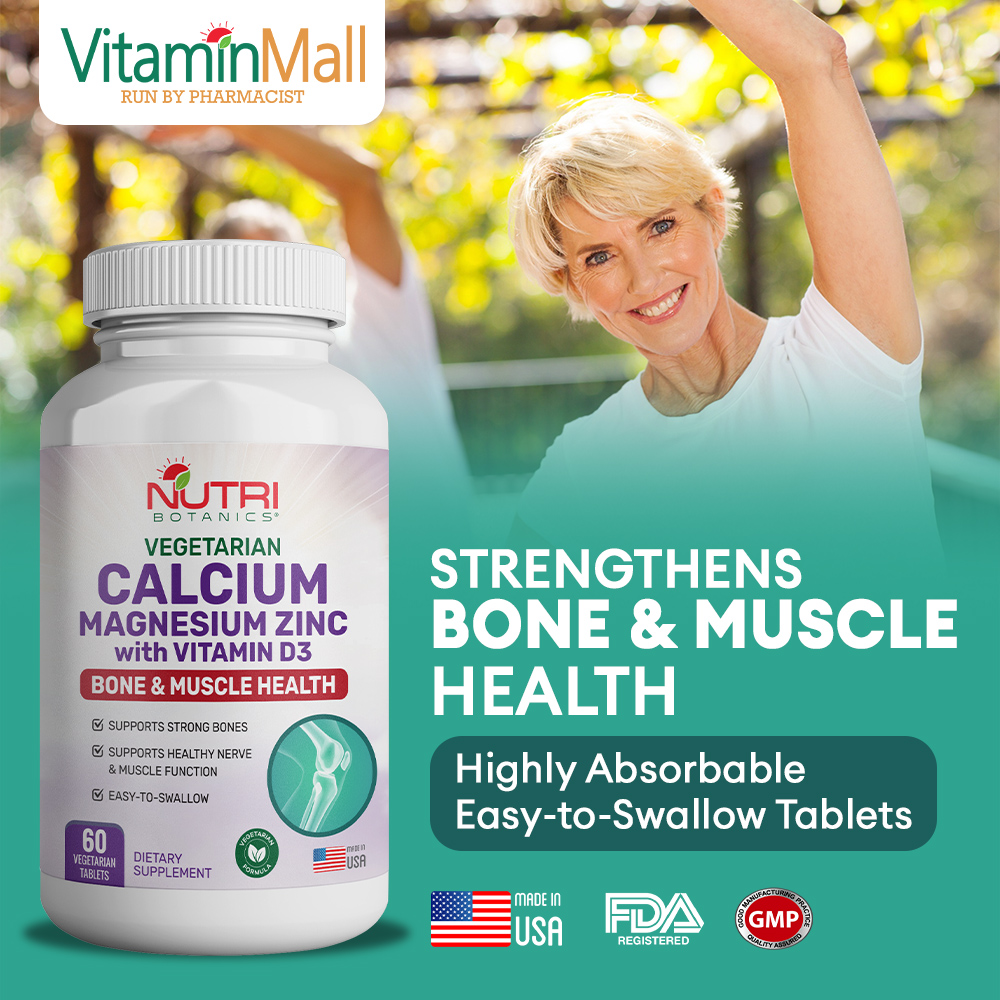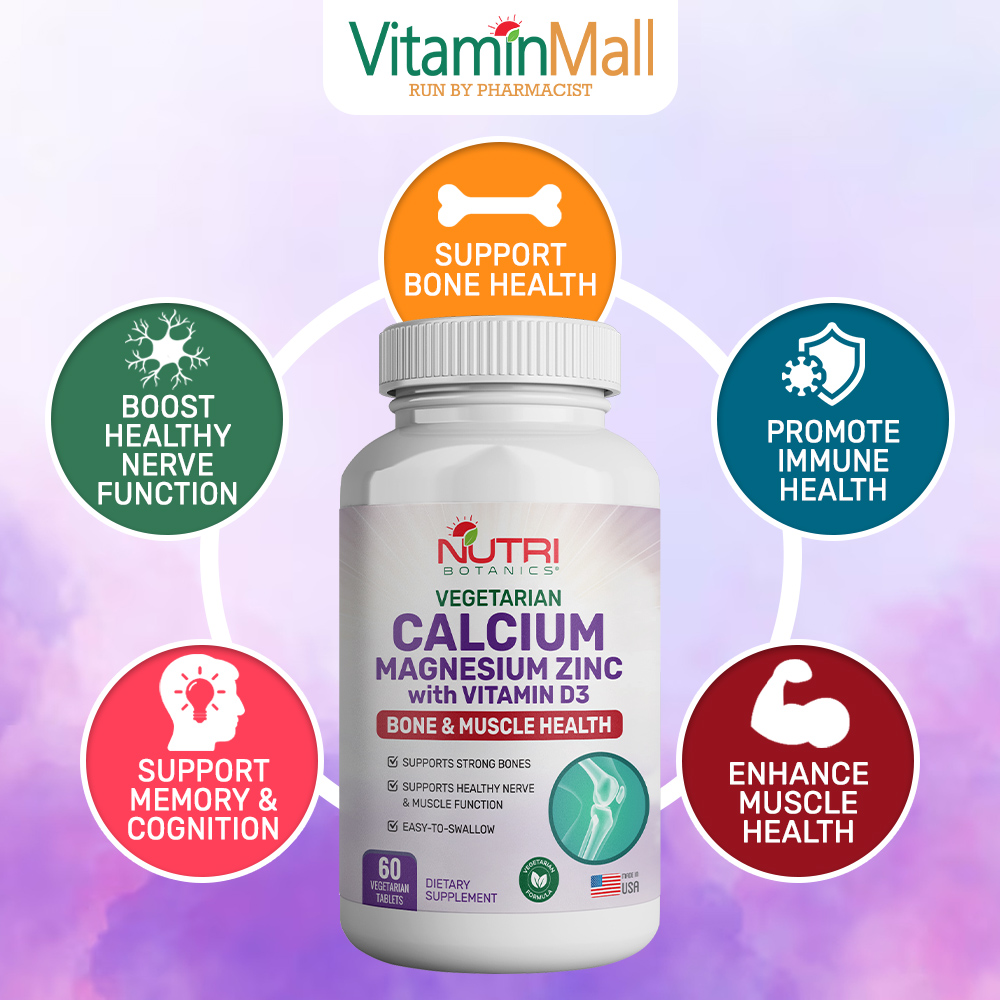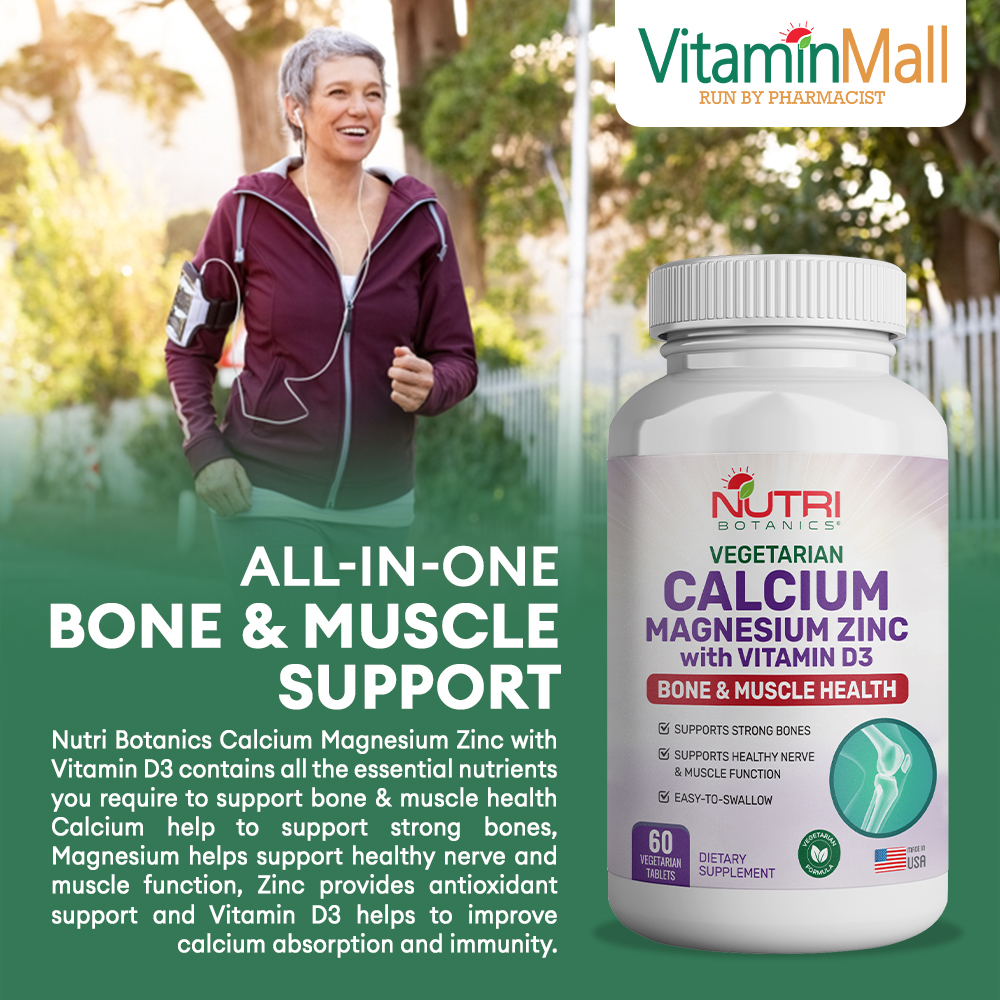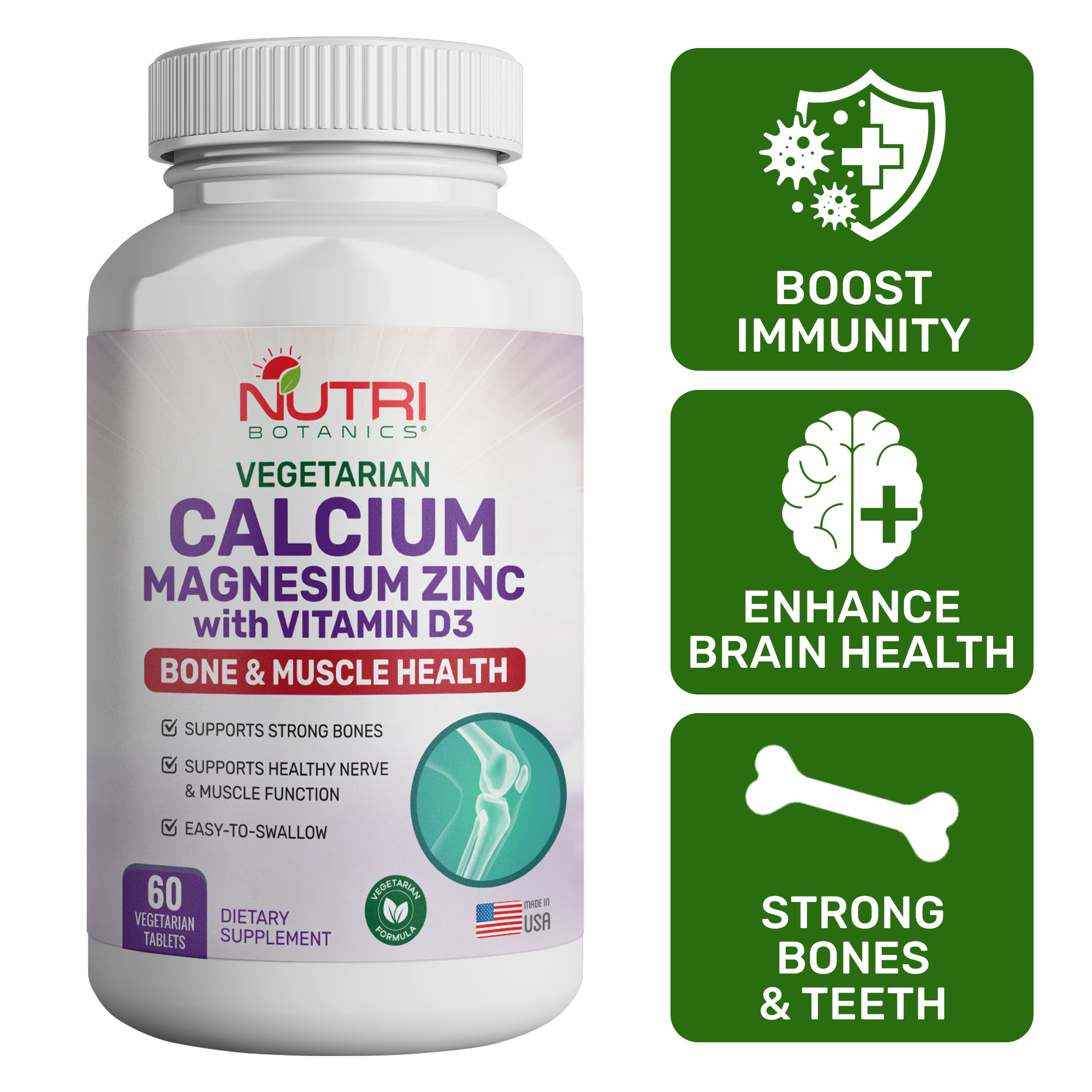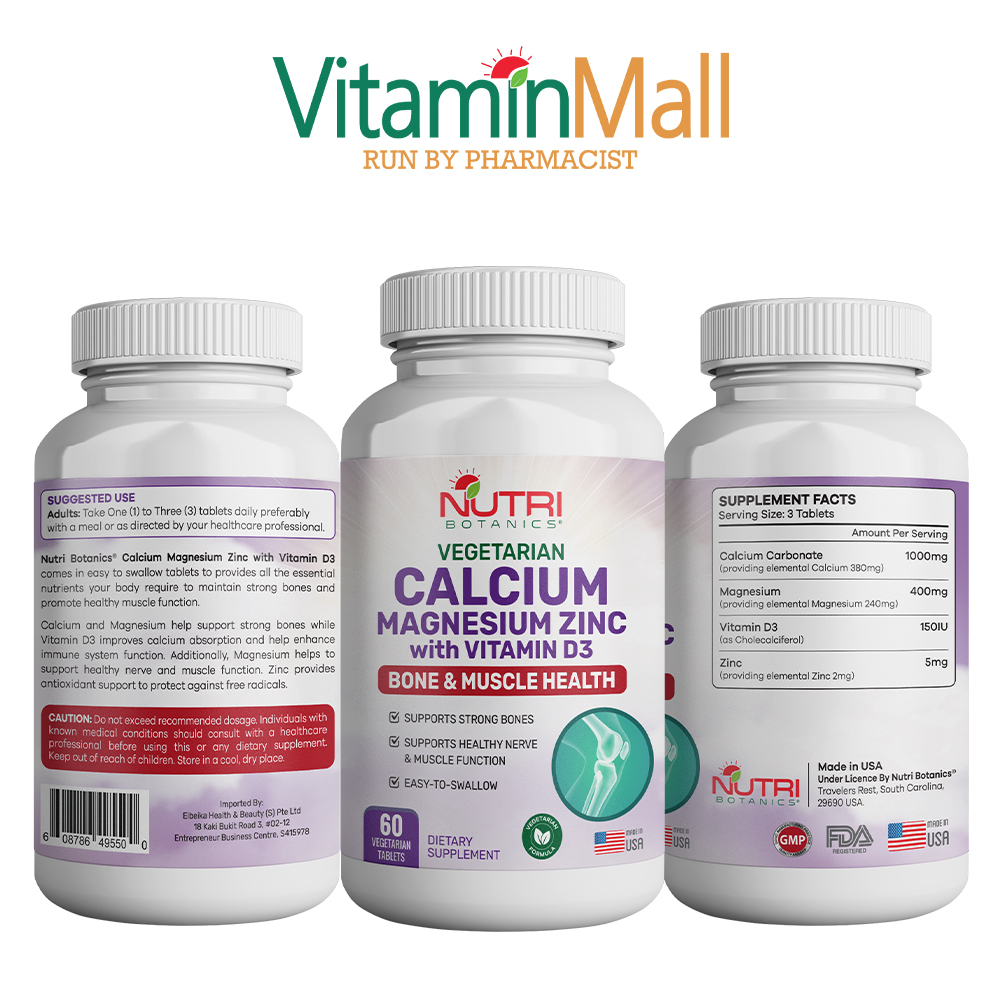 WHY BUY FROM US
Shop with us today and Experience the VitaminMall difference! When you buy any products from VitaminMall, you can be rest assured of the following benefits:
Ask A Pharmacist Helpline

Our pharmacist will attend to your questions about health supplements and the safety of herbal remedies.

Best Range, Best Pricing Available Online

Fast Shipping

Our goal is to deliver your purchase in the quickest and most economical way possible. In order to support this goal, we only use reputable Courier Service Company like QExpress to ship your orders. For orders above $70, shipping is free!

Secured Online Ordering

Our website is secured by Thawte SSL

Unparalleled Customer Service

We take pride in our knowledgeable and professional customer service and we will do everything possible to help you.

Natural Ingredients

Most of our specialty supplements are formulated with top quality natural ingredients.

GMP Certified

All our health supplements are manufactured in State-of-the-Art Facility

If you have any questions about how maca supplements can help you improve your vitality, health and wellbeing, speak to one of our qualified pharmacists today. Here at Singapore's Vitamin Mall, we are dedicated to providing professional-grade help to all those who need it.