Nutri Botanics Hair Plus II with Amino Acids – Hair Growth Supplement with Biotin, 18 Amino Acids Keratin, Collagen - Stop Hair Loss, Regrow Hair Fast – 43 Hair Vitamins for Faster Healthier Hair Growth - For Women & Men – 60 Tablets
Nutri Botanics

Product Code: 0505

Availability:

In Stock

Reduces Hair Loss In 30 Days

Promotes Hair Growth

45 Key Hair Nutrients

With 900mcg Biotin

18 Amino Acids to Stop Hair Loss

For Both Men and Women

Made in USA
Available Options
---
---
SHELF-LIFE ASSURANCE: Min. 18 Months from Date of Purchase
Stop hair loss fast and regrow hair quickly in as little as 30 days with Nutri Botanics Hair Plus II with Amino Acid – the clinically formulated and effective hair growth supplement that works for both men and women.
Nutri Botanics Hair Plus II with Amino Acids is clinically formulated to incorporate 43 key hair nutrients including biotin, keratin, B vitamins, collagen, horsetail, and a special proprietary blend of 18 amino acids to help stop hair loss and stimulate growth of stronger and shinier hair.
Every batch of Nutri Botanics Hair Plus II work is proudly manufactured in a GMP-certified manufacturing facility based in the USA, guaranteeing high quality standards and strict manufacturing processes.
Suggested Use: Take 2 tablets daily preferably with a meal or as directed by your healthcare professional.
Each serving contains Vitamin A 5000 IU, Vitamin C 60mg, Vitamin D 1000IU, Vitamin E 15Iu, Thiamine (B1) 5mg, Riboflavin (B2) 5mg, Niacin 10mg, Vitamin B6 5mg, Folic Acid 200mcg, Vitamin B12 8mcg, Biotin 900mcg, Pantothenic Acid 15mg, Calcium 260mg, Phosphorus 128mg, Magnesium 50mg, Zinc 7.5mg, Manganese 2mg, Choline Bitartrate 10mg, Inositol 30mg, Citrus Bioflavonoids 30mg, Rutin 8mg, Horsetail 3mg, Hydrolyzed Collagen 50mg, Alpha-Lipoic Acid 10mg, Hydrolyzed Keratin 100mg
Why choose Nutri Botanics Hair Plus II?
- Reduce hair loss
- Boost hair growth
- Nourish thinning hair
- Promote hair regrowth
- 43 hair growth ingredients + biotin
Nutri Botanics Hair Plus II with Amino Acids is the best hair loss supplement for both men and women to stop hair fall and promote hair growth. It contains Amino Acid proprietary blend such as arginine, tyrosine, alanine and cysteine that are essential proteins & hair vitamins for hair follicles, preventing balding. As we age, the rate of hair loss increases while hair growth decreases. It is important to maintain healthy hair follicles to reduce hair fall and maintain thick and shiny hair.
Amino acid is essential to produce keratin which are building blocks in hair. Research has shown that besides boosting hair growth, amino acids help to stop and reverse hair loss. Additionally, it aids in red blood cells creation, allowing oxygen and nutrients delivery to the scalp and hair follicles, helping to stimulate healthy hair growth and stronger hair. Nutri Botanics Hair Plus II works for ALL hair type and is especially effective for men and women with thinning hair. At the first signs of thinning hair, start taking Nutri Botanics Hair Plus II.
Additionally, Nutri Botanics Hair Plus II with Amino Acids also contains biotin, a co-enzyme and B-vitamin that is essential to support various healthy body function and metabolic processes, and an important ingredient for hair growth. It is an essential nutrient for maintaining healthy skin, strengthening hair and nails, and it also supports collagen production, aids in bone development, stronger bones, supports skin renewal & promote smooth skin.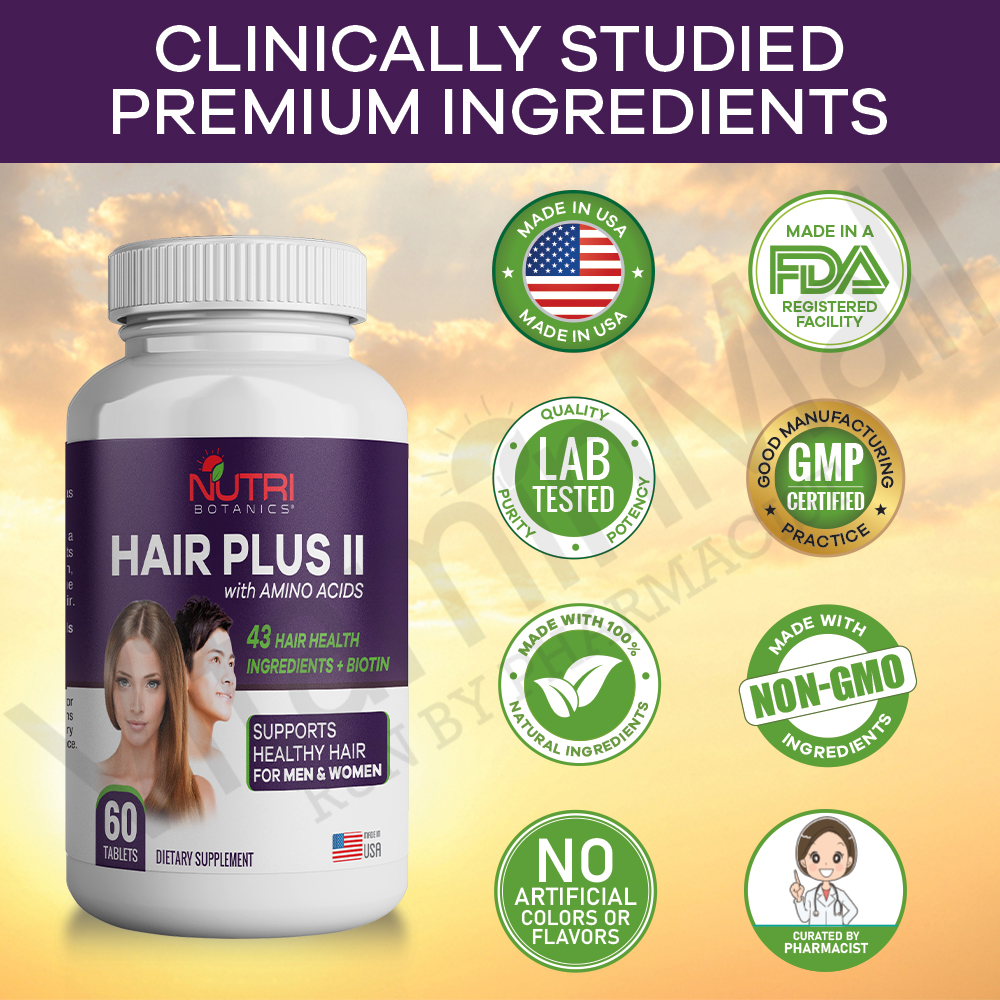 WHY BUY FROM US
Shop with us today and Experience the VitaminMall difference! When you buy any products from VitaminMall, you can be rest assured of the following benefits:
Ask A Pharmacist Helpline

Our pharmacist will attend to your questions about health supplements and the safety of herbal remedies.

Best Range, Best Pricing Available Online

Fast Shipping

Our goal is to deliver your purchase in the quickest and most economical way possible. In order to support this goal, we only use reputable Courier Service Company like QExpress to ship your orders. For orders above $70, shipping is free!

Secured Online Ordering

Our website is secured by Thawte SSL

Unparalleled Customer Service

We take pride in our knowledgeable and professional customer service and we will do everything possible to help you.

Natural Ingredients

Most of our specialty supplements are formulated with top quality natural ingredients.

GMP Certified

All our health supplements are manufactured in State-of-the-Art Facility

If you have any questions about how maca supplements can help you improve your vitality, health and wellbeing, speak to one of our qualified pharmacists today. Here at Singapore's Vitamin Mall, we are dedicated to providing professional-grade help to all those who need it.