Nutra Botanics Cranberry Fruit Concentrate - 60 Softgel - Cranberry Supplement for Urinary Tract Health, Cleanse & Protect the Urinary Tract – Sugar Free – Just 2 Softgels = 1 Glass of Cranberry Juice
Nutra Botanics®

Product Code: 0071

Availability:

In Stock

Promotes Urinary Tract Health

Liquid Softgel For Better Absorption

Antioxidant Support


Supports Immune Health

Made in USA
Available Options
---
---
SHELF-LIFE ASSURANCE: Min. 18 Months from Date of Purchase

Nutra Botanics Cranberry Supplement is formulated in easy to swallow rapid release softgels to support urinary tract health and to provide the benefits of concentrated cranberry without unnecessary sugar and calories. The cranberry softgels allows for quick absorption of the cranberry to help flush urinary tract and maintain cleanliness.
Nutra Botanics Cranberry Softgels is beneficial for both men and women. Take this cranberry supplement as part of your daily routine to help maintain a healthy urinary tract.
Each softgel contains Cranberry Concentrate 4200mg, Vitamin C 20mg and Vitamin E 3IU.
Every batch of Nutra Botanics Cranberry is proudly manufactured in a GMP-certified manufacturing facility based in the USA, guaranteeing high quality standards and strict manufacturing processes.
Suggested Use: Take 1 to 2 softgels three times daily, preferably after meals OR as advised by your healthcare professional
Why choose Nutra Botanics Cranberry?
- Supports urinary tract health
- Packed with antioxidants
- Improves eye health
- Prevent Urinary Tract Infection (UTI)
- Provide benefits of concentrated cranberry without unnecessary sugar and calories
Nutra Botanics Cranberry is a health supplement that is rich in antioxidants to help hinder bacteria in the urinary tract from attaching to the bladder wall, maintaining a healthy urinary tract. There are many benefits of cranberry, such as having a protective antioxidant effect, prevent Urinary Tract Infection (UTI), and support heart health.
Cranberries are well known as superfoods due to its various health boosting and urinary tract health benefits. They are high in antioxidants and anthocyanins which has anti-cancer and anti-inflammatory effects. In addition to promoting urinary tract health, cranberries can help protect liver health, lower blood pressure, improve eye health, and promote cardiovascular health due to its antioxidant properties. Moreover, cranberries are rich in vitamins and minerals, such as vitamin C, A, K, E, potassium, calcium and maganese.
Urinary Tract Infection (UTI) is a common infection that affects the bladder, kidneys and the tubes connecting them. It can cause sudden urges to pee and can be painful and uncomfortable when peeing. This causes great discomfort that is unpleasant to anyone. Everyone can get UTI, especially women who has greater risks. Hence, Nutra Botanics Cranberry health supplement is essential to help keep a healthy urinary tract and promote a healthy body function.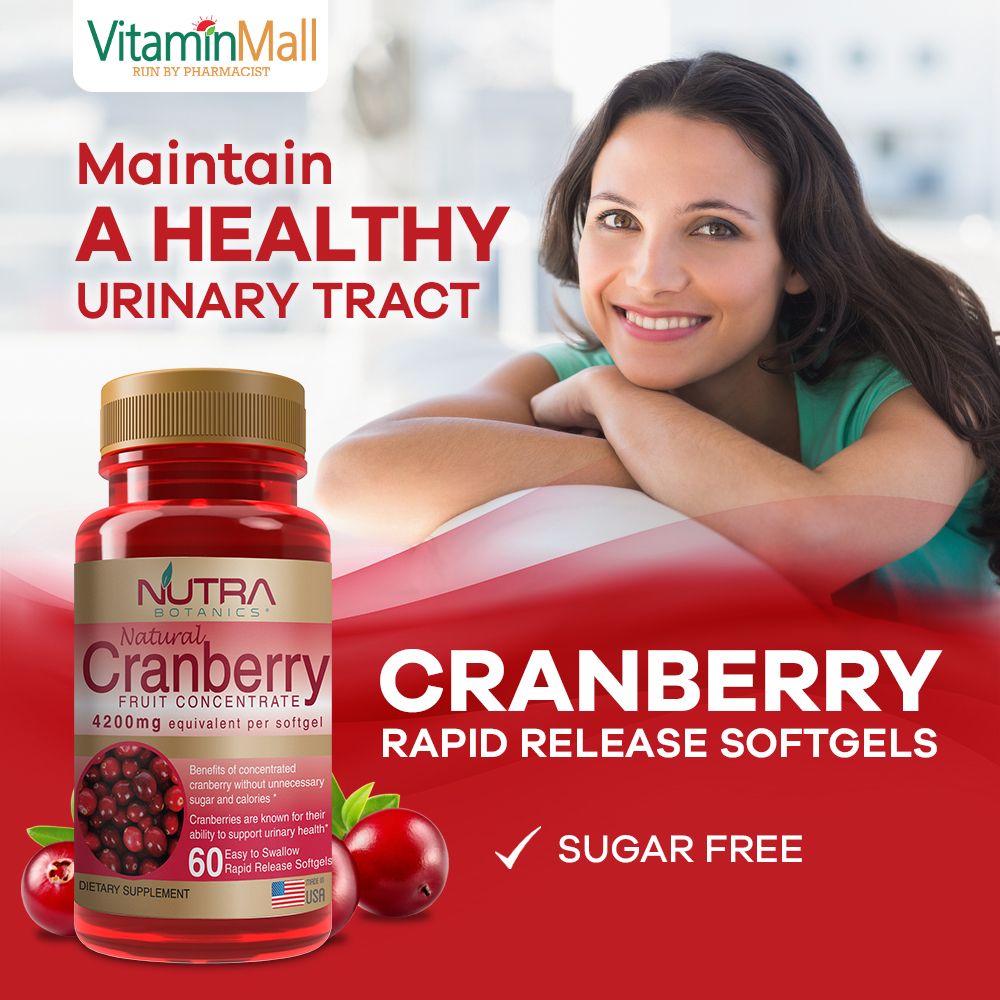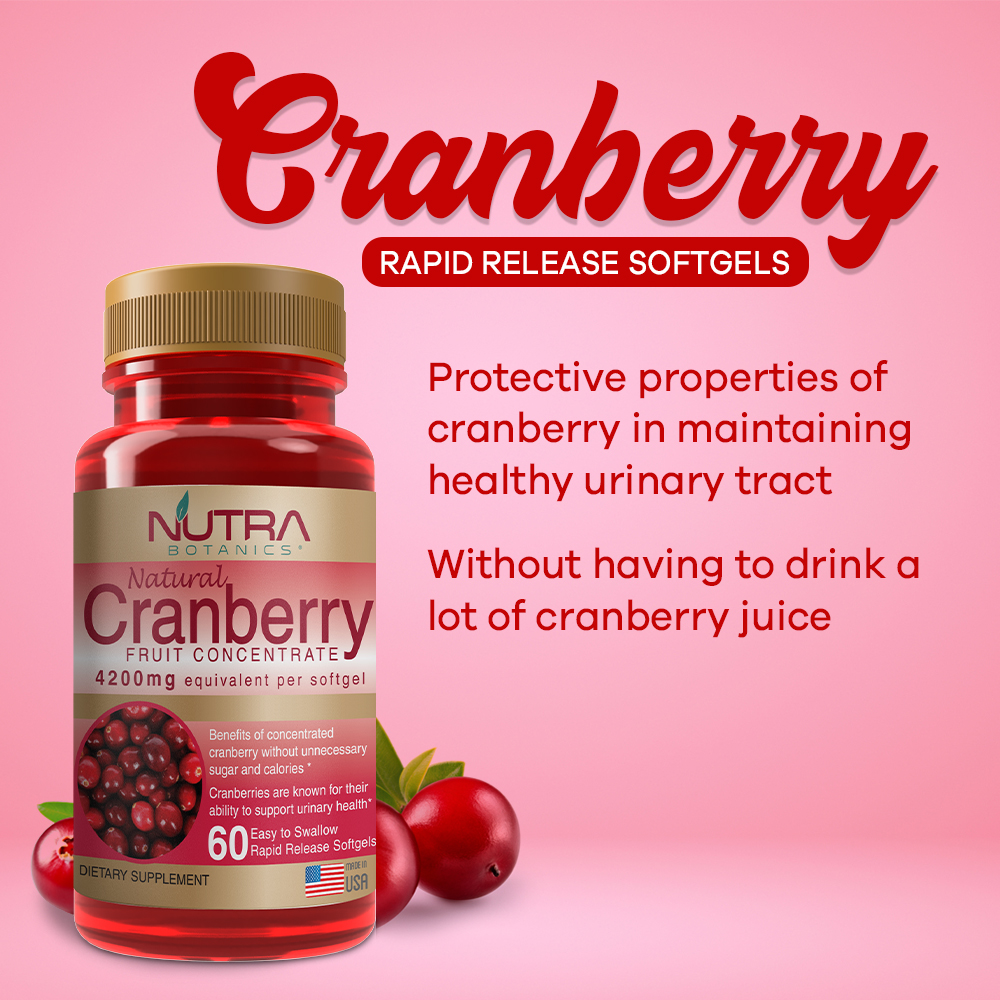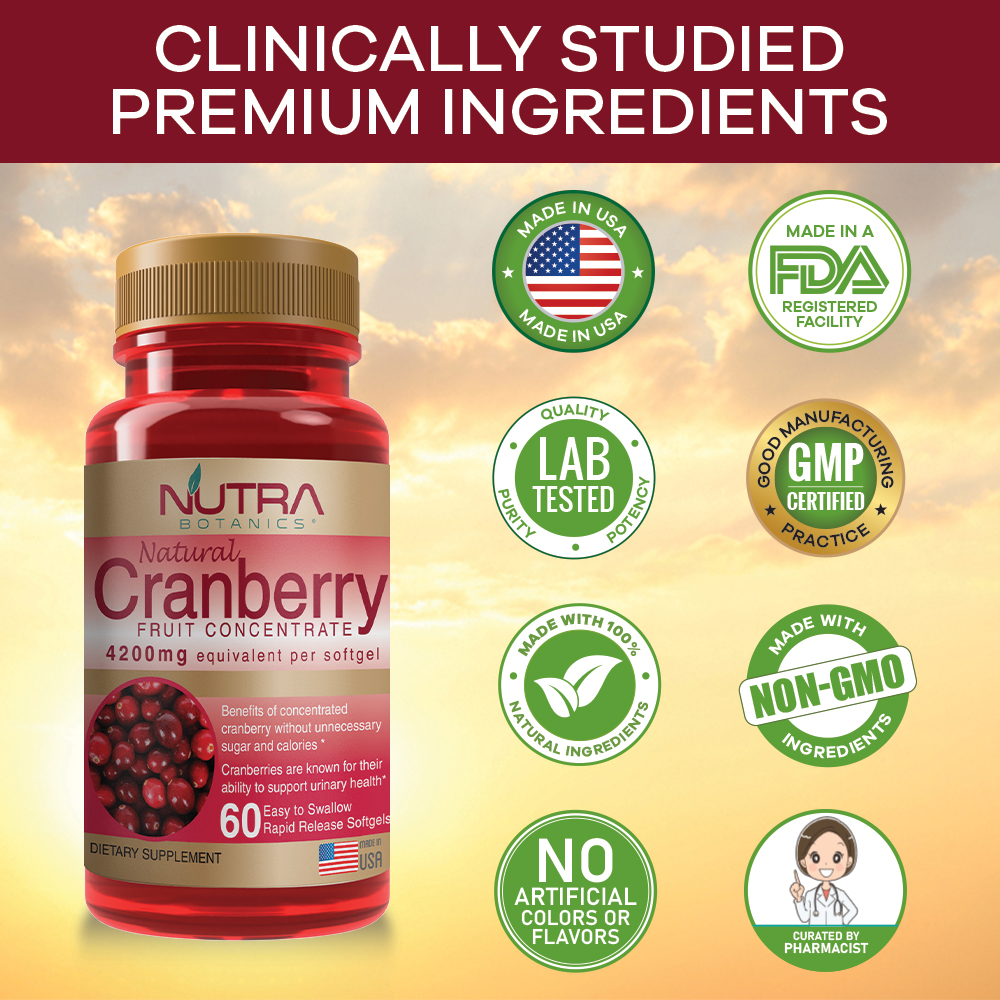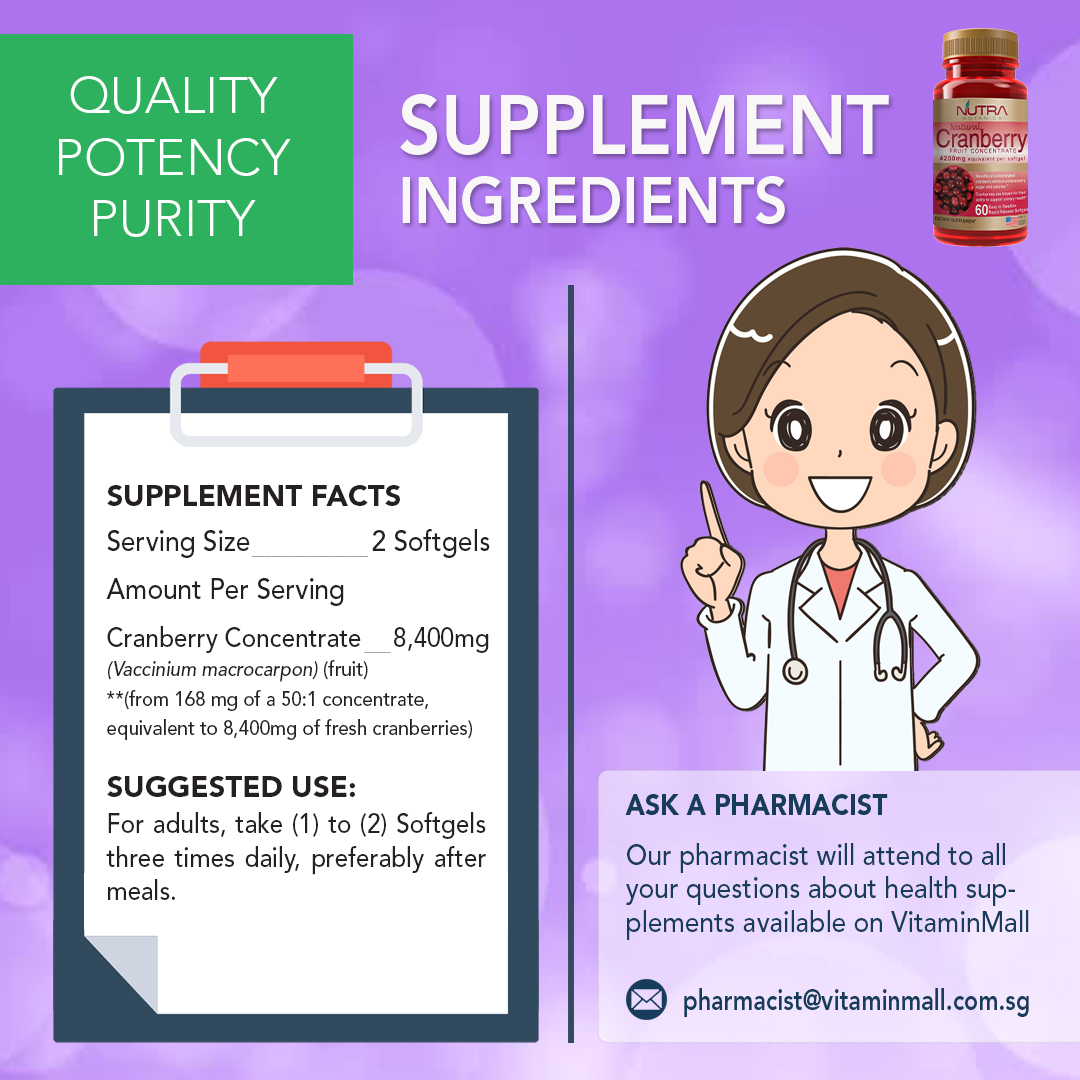 WHY BUY FROM US
Shop with us today and Experience the VitaminMall difference! When you buy any products from VitaminMall, you can be rest assured of the following benefits:
Ask A Pharmacist Helpline

Our pharmacist will attend to your questions about health supplements and the safety of herbal remedies.

Best Range, Best Pricing Available Online

Fast Shipping

Our goal is to deliver your purchase in the quickest and most economical way possible. In order to support this goal, we only use reputable Courier Service Company like QExpress to ship your orders. For orders above $70, shipping is free!

Secured Online Ordering

Our website is secured by Thawte SSL

Unparalleled Customer Service

We take pride in our knowledgeable and professional customer service and we will do everything possible to help you.

Natural Ingredients

Most of our specialty supplements are formulated with top quality natural ingredients.

GMP Certified

All our health supplements are manufactured in State-of-the-Art Facility

If you have any questions about how maca supplements can help you improve your vitality, health and wellbeing, speak to one of our qualified pharmacists today. Here at Singapore's Vitamin Mall, we are dedicated to providing professional-grade help to all those who need it.