Organika Goutrin Gout Control Supplement – Relief for Gout Related Joint Pain, Lower Uric Acid & Prevent Gout Attack - With Celery Extract, Cherry Extract – 60 Vegetarian Capsules – Flash Out Uric Acid - Support Healthy Uric Acid Level
Organika

Product Code: 1402

Availability:

In Stock
Clinically Formulated Gout Control Formula
Relieves Gout Related Joint Pain, Stiffness & Inflammation
Lowering Likelihood of Gout Attack
Lowers Uric Acid Levels
Reduces Symptoms During an Acute Flare-Up of Gout
Source of Antioxidants for the Maintenance of Good Health
Manufactured in Canada at a US FDA GMP Certified State-of-the-Art Facility
Available Options
---
---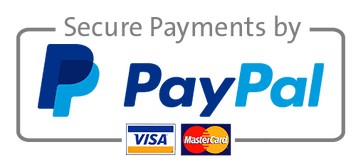 SHELF-LIFE ASSURANCE: Min. 18 Months from Date of Purchase


Goutrin is a clinically proven, all natural gout control supplement formulated with a unique blend of 5 clinically studied ingredients that work synergistically to target gout from all angles – from providing pain relief association with gout, limiting uric acid production, to flushing out uric acid already in the body and preventing the likelihood of a gout attack. Made in Canada, Goutrin come in small easy to swallow vegetarian capsules.



Each Goutrin Vegetarian Capsule Contains: West Indian-Cherry Fruit Powder (Malpighia emarginata) 100 mg, Thyme Leaf Powder (Thymus vulgaris) 100 mg, Celery Seed Powder (Apium graveolens) 100 mg, Peppermint Leaf 15:1 Extract (Mentha piperita) 60 mg (Equivalent to 900 mg of Dried Peppermint Leaf), Vitamin C (Calcium Ascorbate) 30 mg


Made in Canada, each and every batch of Organika Goutrin is proudly manufactured in a GMP-certified manufacturing facility in the Canada
Gout is an inflammatory type of arthritis caused by uric acid crystal build-up in your body. A naturally occurring compound, uric acid is produced in the body and is also present in foods such as animal protein, alcoholic beverages and sweetened drinks. Ideally, uric acid is released out your kidneys and into your urine. If this flushing system is impaired or levels are too high, uric acid can build up in your blood, leading to a state called hyperuricemia. Gout can then occur as the uric acid accumulates into urate crystals. These needle-like crystals can then be deposited into your joints, where they can cause excruciating pain and inflammation.



Organika's Goutrin is designed to combat gout from all angles, by combining a unique blend of natural plants and compounds.



Goutrin contains cherry powder, which has been linked to a 35% decreased risk of gout attacks, compared to no intake. Cherry blocks the reabsorption of urate in the kidneys and increases urate excretion via urine. Cherry juice may also block xanthine oxidase, an enzyme that speeds up the production of uric acid.



Included in the formula is vitamin C, an excellent source of antioxidants. Research shows that vitamin C intake is strongly associated with a lowered risk of gout, as it helps reduce levels of uric acid in the blood. Vitamin C is an effective anti-inflammatory, as well as an essential nutrient in the formation of collagen, a protein needed for healthy joints.



Celery seed is another Goutrin ingredient, which contains natural phytochemicals that help to provide pain relief. Celery seed is a diuretic, allowing your body to release excess water by increasing urine output, therefore allowing uric acid to be excreted. Celery seeds contain several beneficial substances, including volatile oils, flavonoids and antioxidants (which may protect cells from damage); coumarins (chemicals that help thin the blood); and linoleic acid (an omega-6 fatty acid). Celery seed powder helps neutralize acids in the body. It's also sometimes used to help reduce muscle spasms, calm the nerves and reduce inflammation.



Thyme and peppermint are both included to provide a flavonoid called apigenin. It is a potent inhibitor of xanthine oxidase, thereby decreasing uric acid production. Peppermint also contains the volatile oil menthol, which has a calming and numbing effect on muscles as well as a diuretic effect on the body. The herb thyme contains thymol, a fantastic essential oils that has been scientifically found to have antiseptic and anti-fungal characteristics. The other volatile oils in thyme include carvacolo, borneol and geraniols.



Goutrin truly provides the solution for all aspects of gout.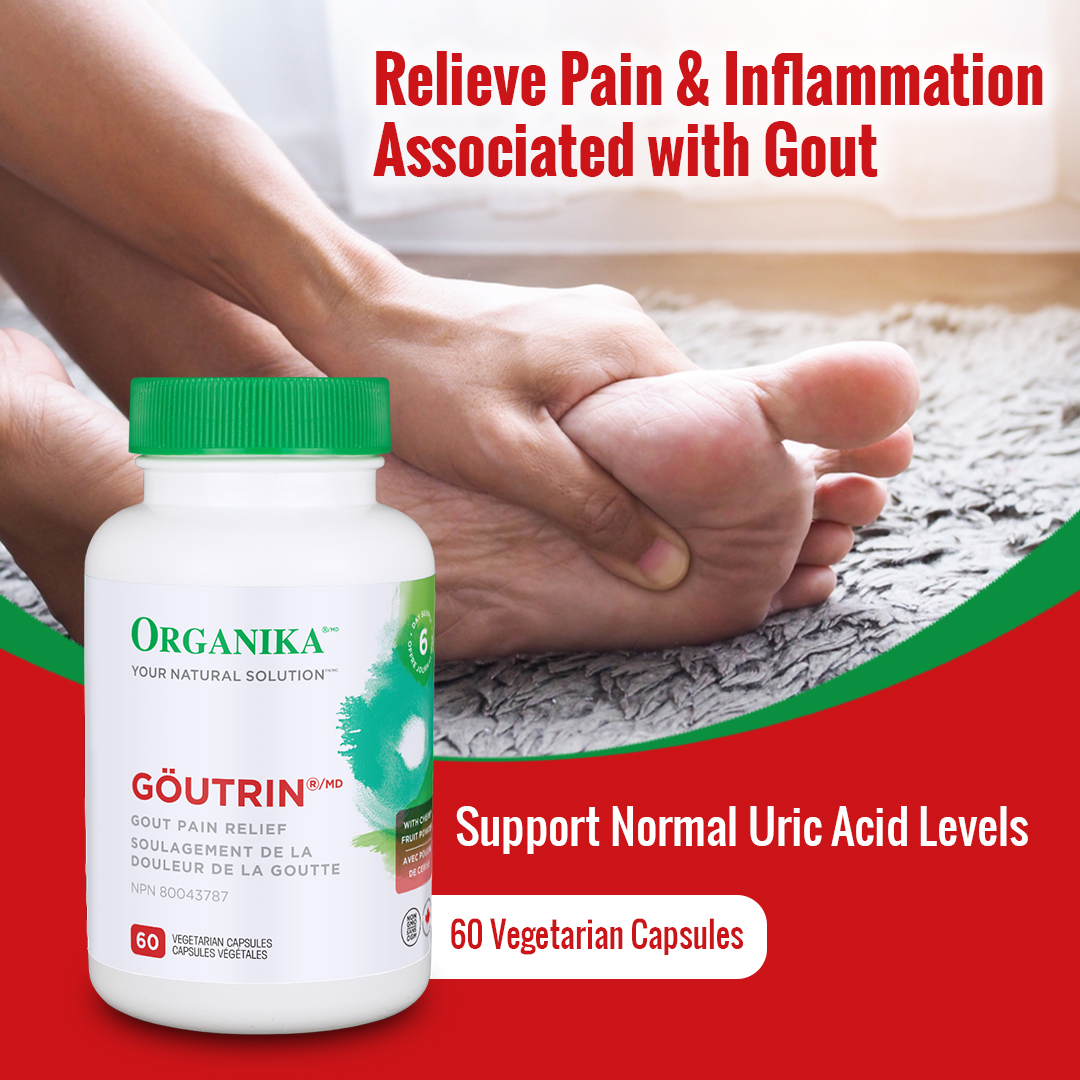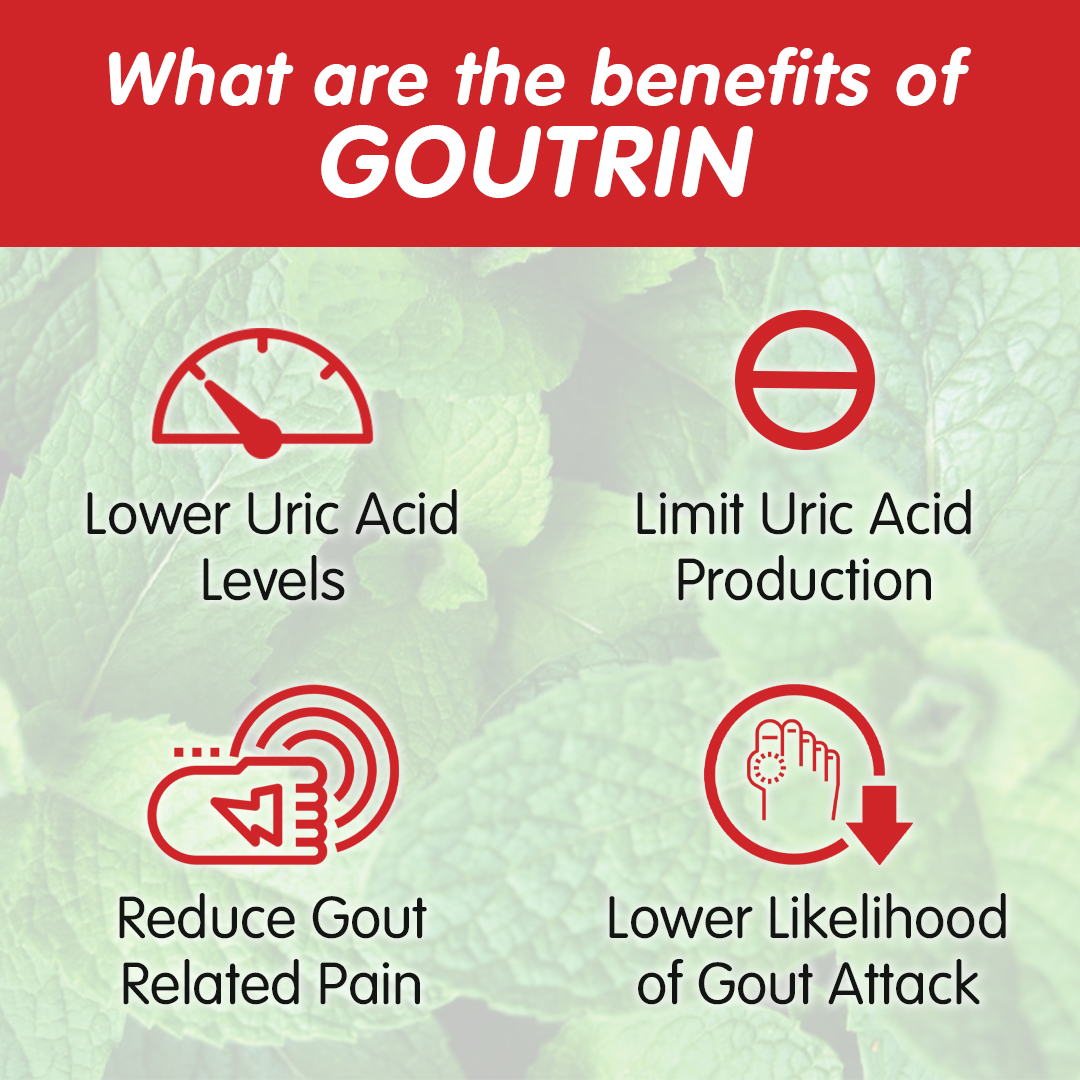 WHY BUY FROM US
Shop with us today and Experience the VitaminMall difference! When you buy any products from VitaminMall, you can be rest assured of the following benefits:
Ask A Pharmacist Helpline

Our pharmacist will attend to your questions about health supplements and the safety of herbal remedies.

Best Range, Best Pricing Available Online

Fast Shipping

Our goal is to deliver your purchase in the quickest and most economical way possible. In order to support this goal, we only use reputable Courier Service Company like QExpress to ship your orders. For orders above $70, shipping is free!

Secured Online Ordering

Our website is secured by Thawte SSL

Unparalleled Customer Service

We take pride in our knowledgeable and professional customer service and we will do everything possible to help you.

Natural Ingredients

Most of our specialty supplements are formulated with top quality natural ingredients.

GMP Certified

All our health supplements are manufactured in State-of-the-Art Facility

If you have any questions about how maca supplements can help you improve your vitality, health and wellbeing, speak to one of our qualified pharmacists today. Here at Singapore's Vitamin Mall, we are dedicated to providing professional-grade help to all those who need it.