Nutri Botanics Triple Action Joint Collagen with Type II Collagen, Turmeric Curcumin & Hyaluronic Acid – 60 Capsules – Joint Health, Chondroitin, Vitamin C, Biotin, Healthy Cartilage, Cartilage Degradation
Nutri Botanics

Product Code: 0536

Availability:

In Stock
Promote Joint Comfort
Maintain Healthy Cartilage
Lubricate Joints
Rebuild Cartilage
Relieve Joint Pain
Made in USA
---
---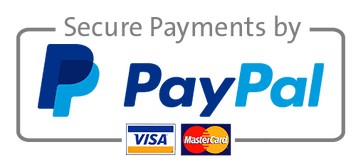 SHELF-LIFE ASSURANCE: Min. 18 Months from Date of Purchase

Nutri Botanics Triple Action Joint Collagen is clinically formulated with type II collagen, turmeric curcumin, hyaluronic acid, chondroitin, and vitamin c to promote joint comfort, provide joint pain relief, help preserve and maintain healthy cartilage, as well as promote healthy joint function and flexibility. Get fast relief from joint pain, joint stiffness, and better joint comfort in as little as 2 weeks with Nutri Botanics Triple Action Joint Collagen.
Why choose Nutri Botanics Triple Action Joint Collagen with Turmeric Curcumin & Hyaluronic Acid?
- Promote Joint Health & Comfort
- Maintain Healthy Cartilage
- Lubricate Joints
- Rebuild & Preserve Cartilage
- Relieve Joint Pain
- Natural Anti-Inflammatory Pain Relief
- Made in USA
Type II Collagen:
Type II collagen is a highly bioactive and bioavailable peptide and a major component of joint cartilage and is clinically proven to work with our immune system to relieve joint pain, promote joint lubrication, and help preserve, maintain, and rebuild healthy cartilage. Cartilage is a connective tissue which connects our bones, allowing tissue to bear mechanical stress, absorb shock, and allows connecting bones to move without friction. Cartilage is particularly prone to wear and tear and while the body is able to deliver some nutrients to the cartilage, cartilage injuries heal slower because collagen supply declines with age and the body is unable to deliver an adequate amount of nutrients needed to repair it and, in some cases, cartilage damage is considered irreversible due to cartilage degradation, leaving your bones more prone to damage resulting in joint pain, aches, and stiffness.
Turmeric Curcumin:
Turmeric curcumin is commonly known as a spice, but it also has antioxidant and anti inflammatory properties including reduced pain and increased joint comfort and flexibility. Several research and studies shows that turmeric curcumin may lessen some of the symptoms of rheumatoid arthritis such as inflammation, and joint swelling and stiffness.
Hyaluronic Acid:
Hyaluronic acid is a gel-like substance that is naturally present throughout the human body and has several functions including joint lubrication, shock absorption, and growth of cartilage. With added hyaluronic acid, it helps your joints to work well like a well-oiled machine to prevent pain and injury from bones grinding against each other. It also reduces or relieves inflammation caused by wearing of the cartilage and bone, and induces the growth of new cartilage and bone tissue to promote joint comfort.
Every batch of Nutri Botanics Triple Action Joint Collagen is proudly manufactures in a GMP-certified manufacturing facility based in the USA, guaranteeing high quality standards and strict manufacturing processes.
Suggested use: For adults, take 1 to 2 capsules daily OR as advised by your healthcare professional.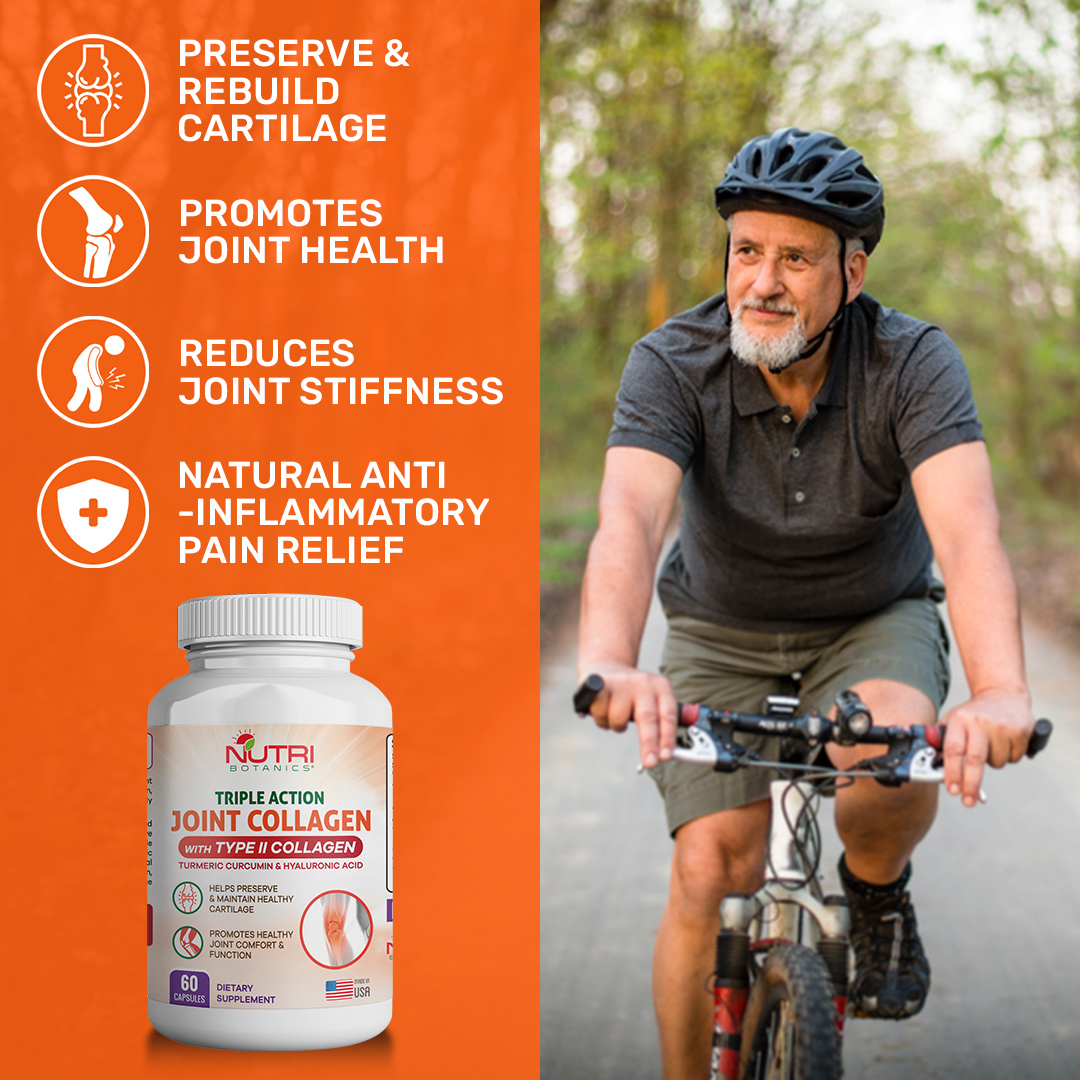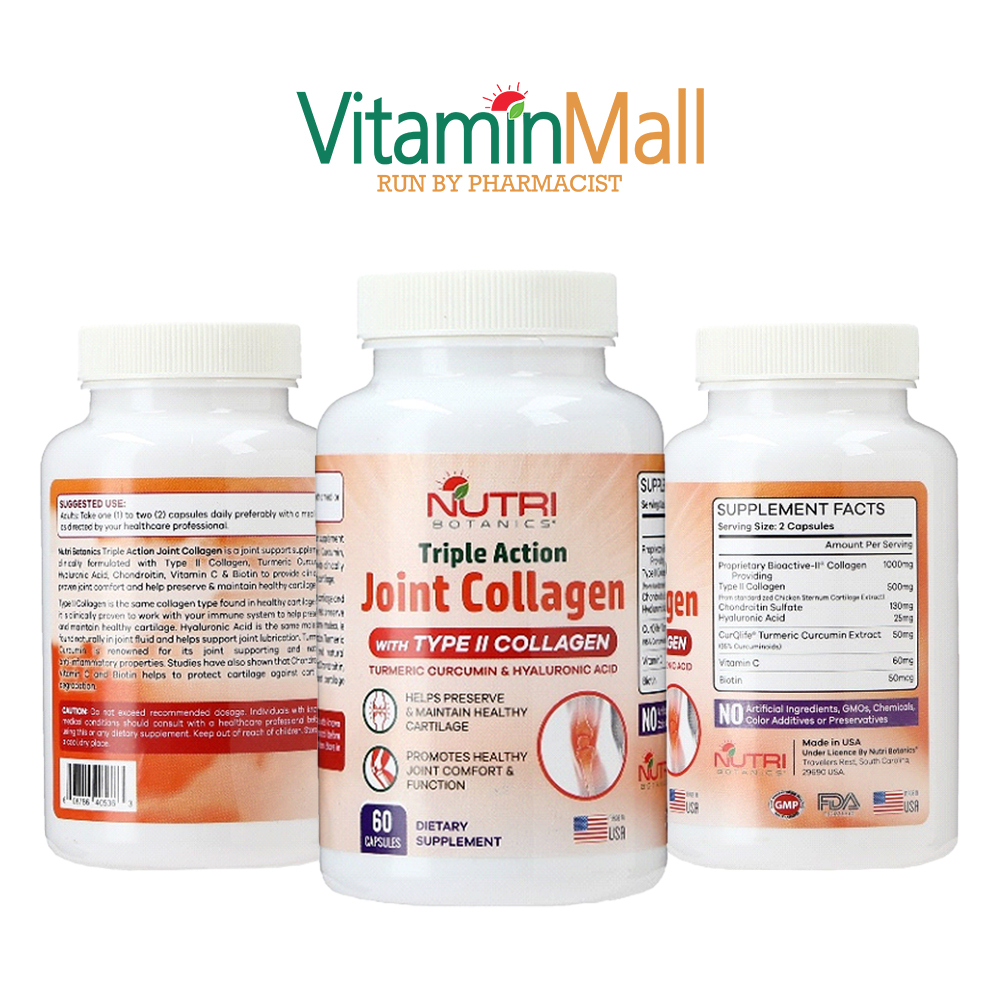 WHY BUY FROM US
Shop with us today and Experience the VitaminMall difference! When you buy any products from VitaminMall, you can be rest assured of the following benefits:
Ask A Pharmacist Helpline

Our pharmacist will attend to your questions about health supplements and the safety of herbal remedies.

Best Range, Best Pricing Available Online

Fast Shipping

Our goal is to deliver your purchase in the quickest and most economical way possible. In order to support this goal, we only use reputable Courier Service Company like QExpress to ship your orders. For orders above $70, shipping is free!

Secured Online Ordering

Our website is secured by Thawte SSL

Unparalleled Customer Service

We take pride in our knowledgeable and professional customer service and we will do everything possible to help you.

Natural Ingredients

Most of our specialty supplements are formulated with top quality natural ingredients.

GMP Certified

All our health supplements are manufactured in State-of-the-Art Facility

If you have any questions about how maca supplements can help you improve your vitality, health and wellbeing, speak to one of our qualified pharmacists today. Here at Singapore's Vitamin Mall, we are dedicated to providing professional-grade help to all those who need it.