Nutri Botanics SlimShred Weight Loss Supplement – 60 Capsules – Block Carbs, Burn Fat, Lose Weight Fast, Curb Appetite, Boost Metabolism, Effective Fat Burner
Nutri Botanics

Product Code: 0525

Availability:

In Stock
100% natural ingredients
Supports metabolism
Burns fat fast
Bocks carbohydrates
Reduces sugar cravings
Made in USA
Available Options
---
---
SHELF-LIFE ASSURANCE: Min. 18 Months from Date of Purchase

Nutri Botanics SlimShred is a 100% natural weight loss supplement formulated to help you lose weight FAST. The unique blend of 7 clinically studied weight loss ingredients in SlimShred help your body to burn fat fast, block carbs, reduce sugar cravings, suppress appetite, burn more calories and boost metabolism. Lose weight fast and get slim with Nutri Botanics SlimShred even if you have difficulty cutting those carbohydrates from your diet.
Nutri Botanics SlimShred contains Glucomannan extract which is a dietary fibre typically derived from the root of the konjac plant. It works in the stomach and intestines to help promote satiety, the feeling of fullness. Additionally, it works well together with Mulberry extract to help control sugar cravings. Nutri Botanics SlimShred
also contains Chromium which is a mineral that improves sugar metabolism and promote weight loss. The specially formulated SlimShred proprietary blend increases your metabolic rate to support the mobilization and burning of fats for energy production. Hence, SlimShred is a weight loss pill / slimming pill that helps to lose weight, burn fat, suppress appetite and block carbs. Ingesting SlimShred supplements with weight-reducing diet can be particularly effective in aiding weight loss.
Every batch of Nutri Botanics SlimShred is proudly manufactured in a GMP-certified manufacturing facility based in the USA, guaranteeing high quality standards and strict manufacturing processes.
Suggested Use: Take up to 3 capsules daily. For best results, take 2 capsules 30 minutes before lunch and 1 capsule 30 minutes before dinner on an empty stomach with a full glass of water OR as advised by your healthcare professional
Why choose Nutri Botanics SlimShred?
- 100% natural ingredients
- Supports metabolism
- Burns Fat Fast
- Blocks carbohydrates
- Reduces sugar cravings
- Made in USA
Nutri Botanics SlimShred can help to lose belly fat fast / lose weight fast as it contains Glucomannan extract that is a natural and water-soluble dietary fibre that is low in calories. It takes up space in the stomach, promoting satiety and delaying stomach emptying which in turn, suppresses appetite, reduces hunger and food intake. As a soluble fibre, glucomannan helps to reduces protein and fat absorption, making it effective for weight loss.
Nutri Botanics Slimshred is a slimming pill / Weight loss pill that can help you to lose weight fast as it helps to suppress your appetite, block carbs, and burn fat, allowing you to lose weight & lose belly fat quickly.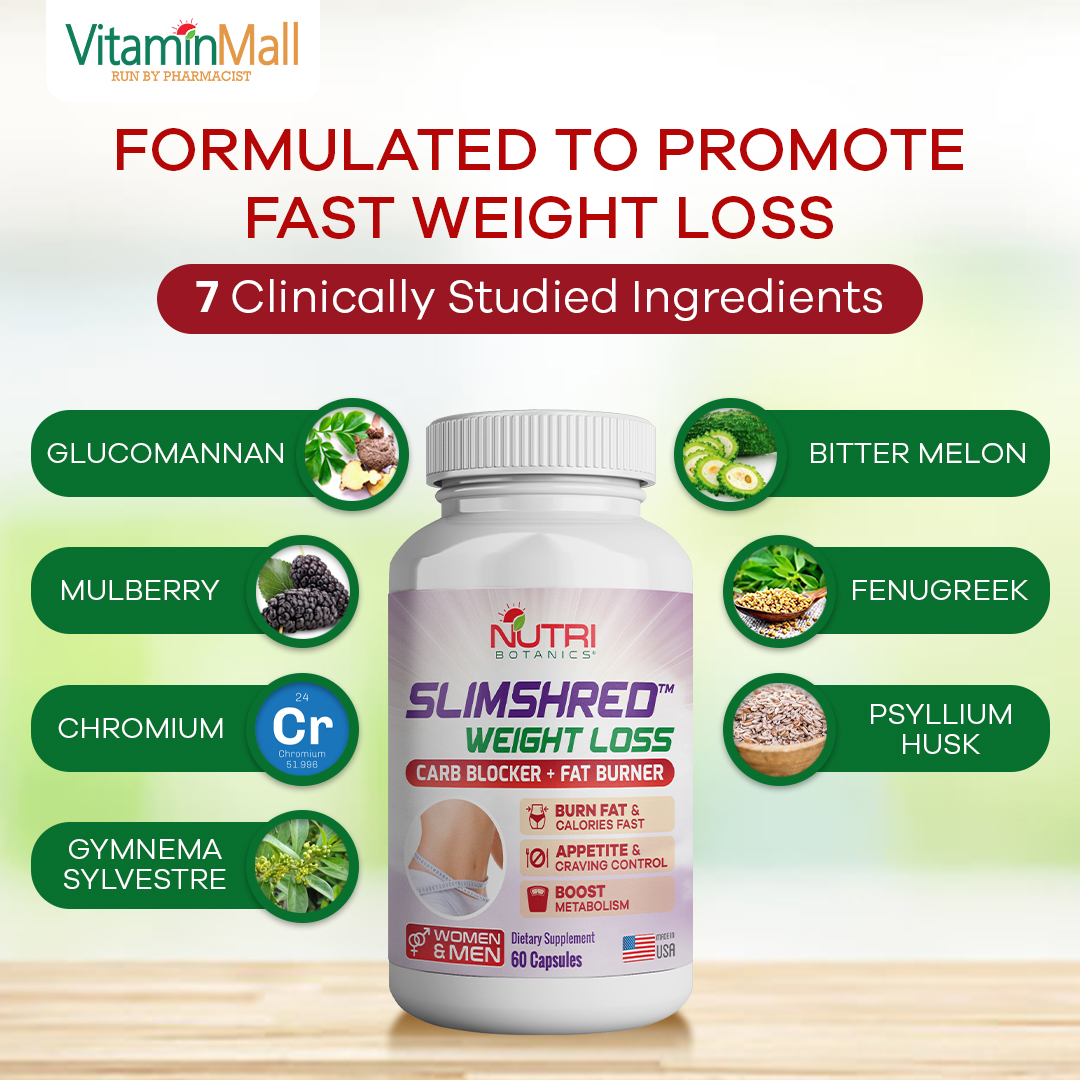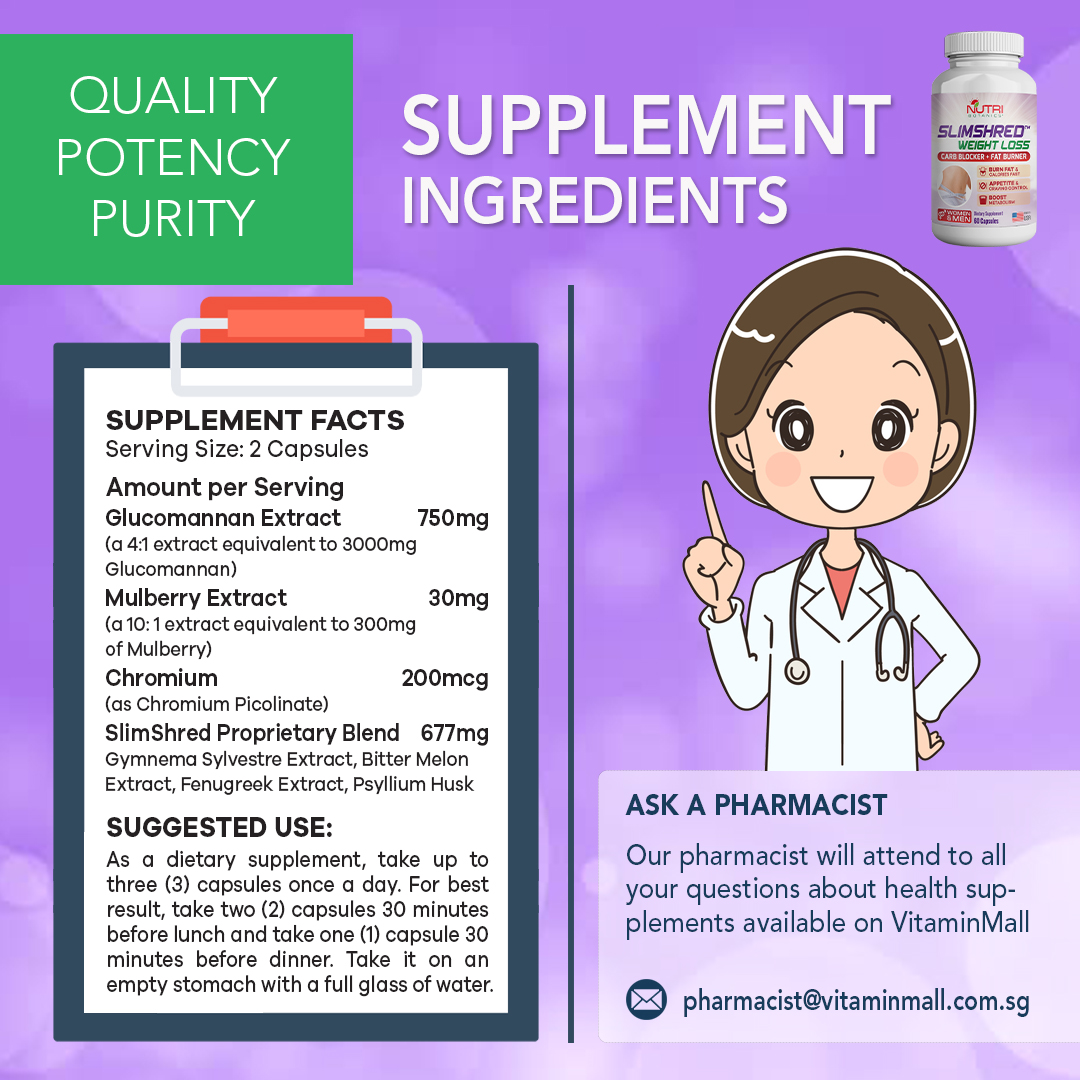 WHY BUY FROM US
Shop with us today and Experience the VitaminMall difference! When you buy any products from VitaminMall, you can be rest assured of the following benefits:
Ask A Pharmacist Helpline

Our pharmacist will attend to your questions about health supplements and the safety of herbal remedies.

Best Range, Best Pricing Available Online

Fast Shipping

Our goal is to deliver your purchase in the quickest and most economical way possible. In order to support this goal, we only use reputable Courier Service Company like QExpress to ship your orders. For orders above $70, shipping is free!

Secured Online Ordering

Our website is secured by Thawte SSL

Unparalleled Customer Service

We take pride in our knowledgeable and professional customer service and we will do everything possible to help you.

Natural Ingredients

Most of our specialty supplements are formulated with top quality natural ingredients.

GMP Certified

All our health supplements are manufactured in State-of-the-Art Facility

If you have any questions about how maca supplements can help you improve your vitality, health and wellbeing, speak to one of our qualified pharmacists today. Here at Singapore's Vitamin Mall, we are dedicated to providing professional-grade help to all those who need it.