Nutri Botanics Vitamin D3 1000IU – 100 Softgel – Immune Support, Bone Health, Prevent Vitamin D Deficiency - Supplement
Nutri Botanics

Product Code: 0509

Availability:

In Stock
1000IU Vitamin D3 is the better form of Vitamin D

Immune Boosting Support
Maintain strong bones
Support Healthy Bone Density
Prevent Vitamin D Deficiency
Enhance Absorption
Manufactured in USA at a US FDA GMP certified State-of-the-Art facility
---
---
SHELF-LIFE ASSURANCE: Min. 18 Months from Date of Purchase
Nutri Botanics Vitamin D3 1000IU is a once daily Vitamin D supplement formulated with Vitamin D3 (Cholecalciferol), a clinically studied and most bioavailable form of Vitamin D. It comes in a convenient, easy-to-swallow liquid soft gel which helps to further enhance the absorption process in the body. Some research indicates that vitamin D3 in liquid softgel form is more bioavailable than tablet forms.
Multiple clinical studies have suggested that having an adequate amount of Vitamin D helps to strengthen our body's immune system, increasing the ability to fight off infections. Nutri Botanics Vitamin D3 1000IU helps to prevent Vitamin D deficiency and support bone health by enhancing calcium absorption.
Nutri Botanics Vitamin D3 1000IU delivers the same biologically active form of Vitamin D produced by the body as a result of sun exposure, without exposure to harmful sun rays, making this form of Vitamin D the best Vitamin D supplement to support overall health. Nutri Botanics Vitamin D3 1000IU is the best immune support supplement that also help raise Vitamin D levels in those with higher Vitamin D needs or deficiency.
Every batch of Nutri Botanics Vitamin D3 1000IU is proudly manufactured in a GMP-certified manufacturing facility based in the USA, guaranteeing high quality standards and strict manufacturing processes.
Suggested Use: Take 1 soft gel daily OR as advised by your healthcare professional
Each serving (1 soft gel) contains 1000IU of Vitamin D3 (as cholecalciferol).
Why choose Nutri Botanics Vitamin D3 1000IU?
- 1000IU Vitamin D3 is the better form of Vitamin D
- Immune Boosting Support
- Maintain strong bones
- Support Healthy Bone Density
- Prevent Vitamin D Deficiency
- Enhance Absorption
- Manufactured in USA at a US FDA GMP certified State-of-the-Art facility
Vitamin D is also known as the sun vitamin as it is also naturally produced in your skin when our skin is being exposed directly to the sun. It is an immune system booster that helps to boost immunity. For individuals who spends most of their time indoors with limited daily sunlight exposure, consuming Vitamin D supplements will help to prevent Vitamin D deficiency.
Insufficient intake of Vitamin D can cause our bones to become brittle since Vitamin D helps to promote calcium absorption and is required for developing & maintaining healthy bones, protecting us from osteoporosis. Low Vitamin D intake may also cause muscle weakness and adequate Vitamin D intake has been shown to help maintain healthy muscle function.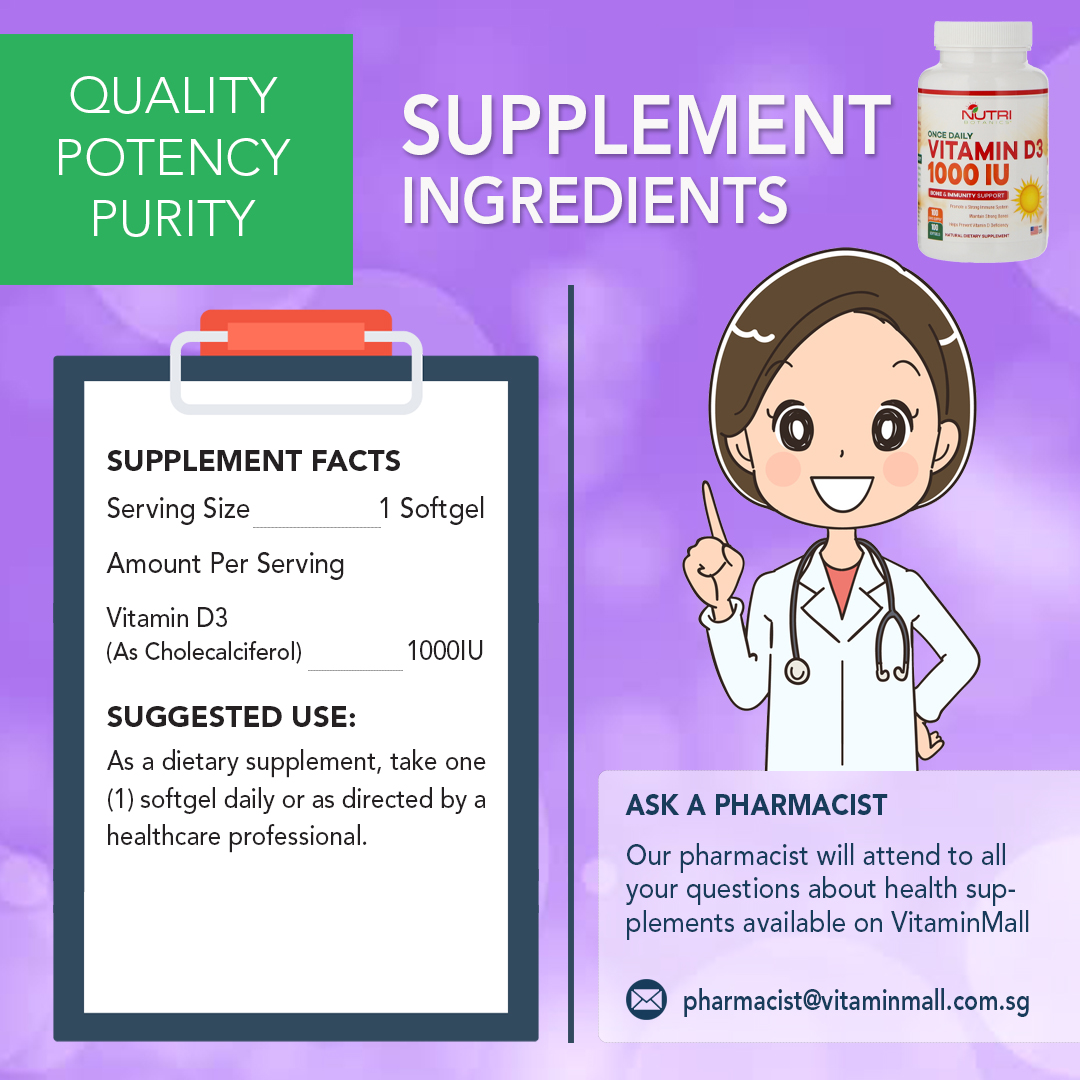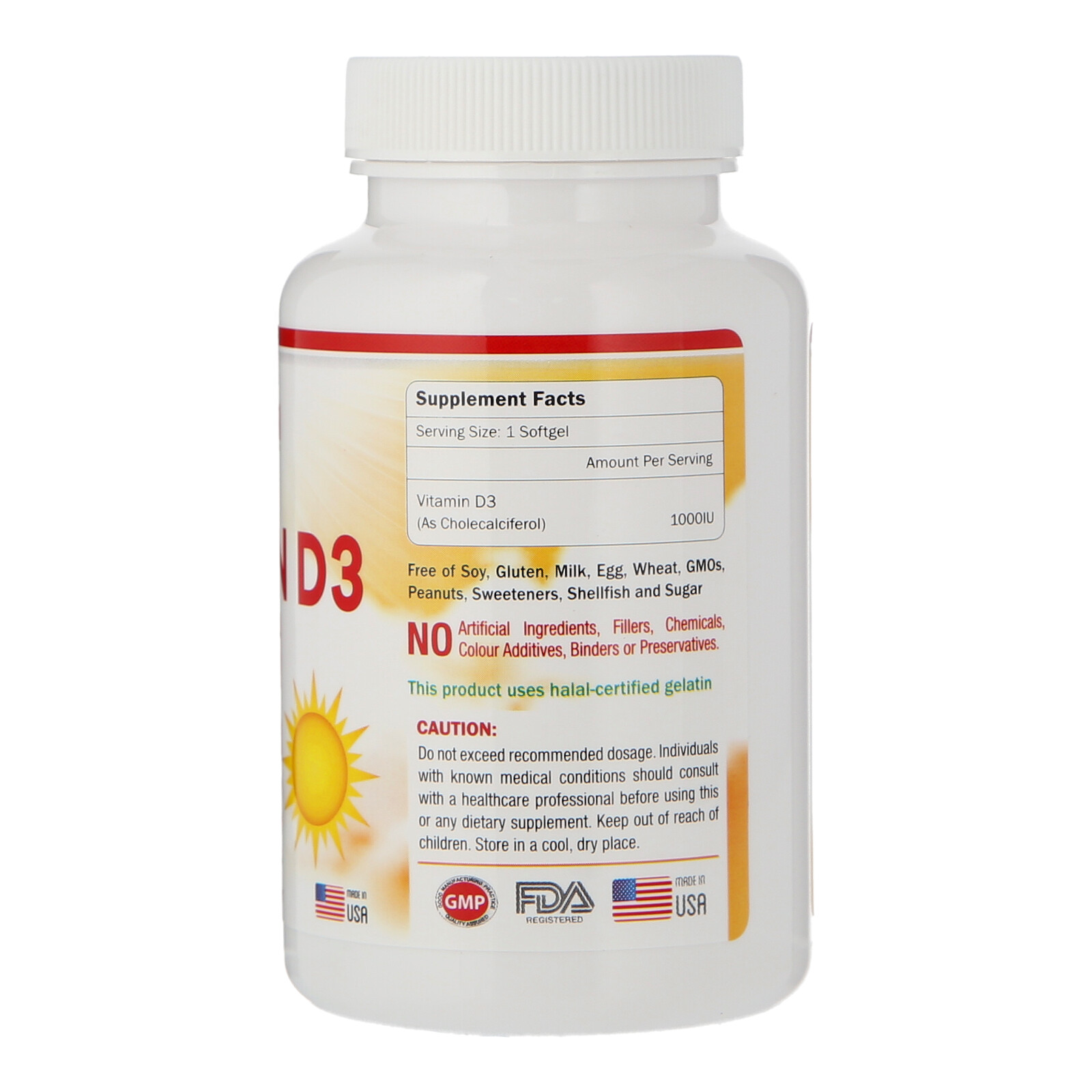 WHY BUY FROM US
Shop with us today and Experience the VitaminMall difference! When you buy any products from VitaminMall, you can be rest assured of the following benefits:
Ask A Pharmacist Helpline

Our pharmacist will attend to your questions about health supplements and the safety of herbal remedies.

Best Range, Best Pricing Available Online

Fast Shipping

Our goal is to deliver your purchase in the quickest and most economical way possible. In order to support this goal, we only use reputable Courier Service Company like QExpress to ship your orders. For orders above $70, shipping is free!

Secured Online Ordering

Our website is secured by Thawte SSL

Unparalleled Customer Service

We take pride in our knowledgeable and professional customer service and we will do everything possible to help you.

Natural Ingredients

Most of our specialty supplements are formulated with top quality natural ingredients.

GMP Certified

All our health supplements are manufactured in State-of-the-Art Facility

If you have any questions about how maca supplements can help you improve your vitality, health and wellbeing, speak to one of our qualified pharmacists today. Here at Singapore's Vitamin Mall, we are dedicated to providing professional-grade help to all those who need it.